Belles Blank Saints for Third Straight Shutout
Box Score

NOTRE DAME, Ind. - The Saint Mary's soccer team earned a 6-0 win over neighboring Holy Cross as six different players registered goals for the Belles on Tuesday.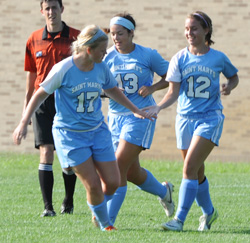 Paige Kennedy (17), Morgan Gagnon (13),
and Rachel Schulte (12) all found their way
onto the scoresheet on Tuesday.Kailtlin Teichman started the scoring onslaught in the 15th minute of play as the Belles scored four first half goals and two in the second 45 minutes of play. It was the junior's second goal of the season and second game-winning effort of the 2012 campaign. Kathryn Lueking, Rachel Schulte, and Morgan Gagnon each added a goal in the first half of action for the Belles to put the control of the game squarely in the Belles' hands.

Maggie McLaughlin and Kelly Wilson each added a goal in the second half of play. Paige Kennedy earned an assist on McLaughlin's goal by virtue of a service on a corner kick in the 52nd minute of play.

For the game, the Belles out-shot the Saints 44-8.

The 6-0 win marks the most goals scored by a Belles squad since the 2009 campaign when Saint Mary's took a 6-0 decision during the regular season.

Nicole Papiernik and Hannah Bruggeman shared the shutout for the Belles in goal. Papiernik earned the win with five saves in nearly 58 minutes of play. Bruggeman turned away the lone shot on goal by Holy Cross that she faced in the final 30 minutes of action.

The Belles (2-0-1) will have over a week off to prepare for their conference opener as Saint Mary's will travel to Olivet on Thursday, September 13 for a 4:00 p.m. contest against the Comets.