Belles Shut Out Flying Dutch
Box Score

NOTRE DAME, Ind. - The Belles broke through with the only goal of the game in the 16th minute as the Saint Mary's soccer team defeated regionally-ranked Hope 1-0 at home on Saturday afternoon. For the Belles, it was their second win over a regionally-ranked opponent on the season.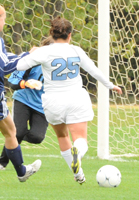 Ashley Morfin chips her
shot in for the lone goal
of the game on Saturday.Mollie Valencia pushed a pass forward through the defense to hit Ashley Morfin on a run past the back line for Hope. The senior chipped a shot from 12 yards out past the Hope goalkeeper and in for her fifth goal of the season.

The Saint Mary's defense staved off the Flying Dutch efforts to tie the game late. The Belles shut down a pair of Hope corner kicks midway through the second half. In the 82nd minute of action, Chanler Rosenbaum came up with back-to-back saves including a stop on a header by the Flying Dutch well inside the penalty area. After a third straight stop by Rosenbaum and the defense, Hope was unable to get another clean opportunity at goal away in the contest.

The 1-0 win is the third consecutive MIAA shutout victory for the Belles. Including the team's 3-0 win over Hope to end the 2011 season, Saint Mary's has recorded back-to-back clean sheet wins over the Flying Dutch for the first time since the 1990 and 1991 seasons.

Chanler Rosenbaum picked up her fifth shutout of the year in goal with a season-high 11 saves for the Belles.

The Belles (9-2-1, 6-2 MIAA) will begin their second round of MIAA contests when they host Olivet on Tuesday, October 9 beginning at 4:00 p.m.