Belles Blank Comets
Box Score

NOTRE DAME, Ind. - The Saint Mary's soccer team picked up their tenth win of the season and fourth consecutive conference shutout win with a 2-0 decision against Olivet on Tuesday evening.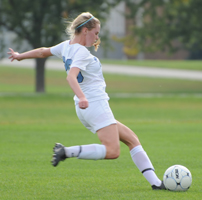 Kathryn Lueking had the game-winning
goal for the Belles in their 2-0 win.Once the Belles were able to settle into the flow of the game, they maintained possession and pressure until the 26th minute of action. A cross by the Belles was intercepted and deflected off a defender right to Kathryn Lueking's feet at the top of the 18-yard box. The freshman drove a low shot through the defense just inside the right post for her second goal of the season. That goal would be turn out to be the first game-winning goal of Lueking's collegiate career.

Ten minutes later, it would be Maggie McLaughlin who would strike for the Belles. McLaughlin gained possession from the Olivet defense, took a pair of touches, and lofted a shot from outside the 18-yard box across the goal and into the right side netting to double the Belles' lead in the 36th minute of play.

The Belles had three strong chances later in the first half that appeared to be extending the lead even further only to see those opportunities saved, sail just above the goal, and glance off the crossbar.

The shots were more even in the second half as Saint Mary's out-shot Olivet 7-6 over the second 45 minutes of play. For the game, the Belles held a 17-10 advantage in shots and a 5-2 upper hand in corner kicks.

For the Belles and their defense, it is the eighth shutout of the 2012 season. The eight shutouts is the most in a season since the 2003 Saint Mary's soccer squad. Since joining the MIAA in 1997, no Saint Mary's soccer team has had four consecutive MIAA shutout wins. The 2012 Belles are only behind that same 2003 team that posted five straight shutouts in league play (four wins and a tie) for the most consecutive clean sheets in conference contests by a Saint Mary's team.

Chanler Rosenbaum picked up her sixth shutout of the season while making three saves in goal.

The Belles (10-2-1, 7-2 MIAA) will travel to regionally-ranked Adrian on Thursday for a 7:00 p.m. contest against the Bulldogs.