Belles Set School Record Win Mark Against Trine
Box Score

ANGOLA, Ind. - The Saint Mary's soccer team won their school record 12th game of the season with a 3-0 win on the road at Trine on Saturday.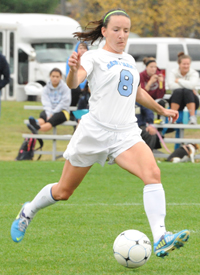 Maddie Meckes scored the game-
winner on a long-range shot to the
upper 90 in the second half.The game was scoreless until Maddie Meckes took a long-range shot and scored in the upper 90 with 29:16 left in regulation to put the Belles on the scoreboard. Six minutes later, Maggie McLaughlin connected with Hillary Burton for a breakaway goal to double the lead. The Belles put the contest to bed when Jordan Diffenderfer's chip shot over the goalkeeper with under 15 minutes to play was true. Kathryn Lueking picked up an assist on Diffenderfer's goal for her first helper on the season.

Saint Mary's out-shot Trine 19-9 in the game. Of those 19 shots, 14 attempts were on goal for the Belles. The defense limited the Thunder to just two shots on goal in 90 minutes of play.

Chanler Rosenbaum earned her seventh shutout of the season with a pair of saves as the Saint Mary's defense now boasts nine clean sheets for the 2012 campaign.

The 12 wins in a season surpasses the 2005 squad's 11 wins in a season for a school record. The 1989 Saint Mary's soccer team holds the unofficial school mark for wins in a season with 12, but six of those victories came against club programs, which are not recognized by the NCAA as official contests.

The Belles (12-5-2, 9-5-1 MIAA) will take on Kalamazoo at home on Wednesday, October 31 with a trip to the MIAA Tournament on the line in the regular season finale.