Belles Silence Thunder
Box Score

NOTRE DAME, Ind. - The Saint Mary's soccer team earned their sixth shutout of the 2012 season with a 4-0 conference win over in-state rival Trine on Wednesday evening.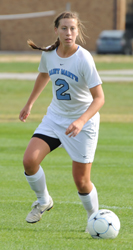 Kerry Green had the
game-winner with a
header in the 25th
minute.The Belles broke through with their first goal of the game in the 25th minute as Maddie Meckes lofted a high corner kick into the box to Kerry Green, who headed in her first goal of the season. Just a few minutes later, Jordan Diffenderfer sent a long cross through the penalty area, which bounced off the Trine goalkeeper to a wide open Kaitlin Teichman for the second goal of the contest.

In the second half of action, Ashley Morfin settled the ball inside the penalty area, made a move toward the center of the field, and sent the ball over the goalkeeper into the far side of the net in the 75th minute to push the lead to 3-0. With just a few minutes remaining in regulation, a corner kick bounced near the edge of the six-yard box and was sent away from a pack of defenders by Maggie McLaughlin to Maddie Meckes. Meckes launched a shot from outside the 18-yard box and into the far side netting of the goal for her second goal of the season.

The Saint Mary's defense continued to show their resolve as the Belles' back line limited the Thunder to just one shot in the second half of play.

Chanler Rosenbaum picked up the shutout win in goal while making three saves on the afternoon.

The Belles (8-2-1, 5-2 MIAA) will host Hope on Saturday, October 5 for a noon MIAA contest against the Flying Dutch.