Belles Tame Bulldogs
NOTRE DAME, Ind. - The Saint Mary's soccer team picked up a 2-0 win over Adrian, who had entered the contest tied for first in the MIAA.

Rosie Biehl (left) and Kerry
Green celebrate Biehl's goal.With each team maintaining possession of the ball for lengthy stretches of time throughout the first period, the Belles were able to exert themselves as the aggressors by turning those possessions into seven shots to the Bulldogs' one shot in the opening 45 minutes.
The Belles continued to push the tempo while limiting Adrian's counterattack chances in the second half. Saint Mary's had four corner kicks in the opening six minutes of play in the period. After taking the first three shots of the half for the Belles, Rosie Biehl tallied what proved to be the game-winner in the 61st minute. Her shot rocketed off the Adrian goalkeeper's hand and ricocheted off the inside of the far post and in for the first goal of the game.
As the clock was winding down and the pressure continued to mount for both sides, the Belles struck again for a second and deflating blow. Erin Mishu picked up a deflection off of a long service pass, got around her defender, and sent home her first goal of the season with a shot inside the 18-yard box for the insurance tally in the 85th minute of play.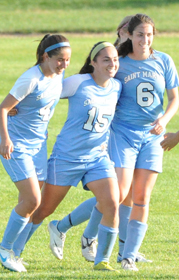 Kelly Wilson, Erin Mishu, and
Jordan Diffenderfer celebrate
Mishu's goal against Adrian.On the Bulldogs' ensuing possession, they were able to push the ball deep into the Saint Mary's half and get off a shot that Chanler Rosenbaum covered up and keep the shut out in tact with more than five minutes to play. After that save, the Belles held the ball for a stretch of play that spanned more than three minutes to put the thoughts of a Bulldog comeback to rest. Chanler Rosenbaum picked up the shut out victory in goal with three saves. It was the first time this season that the Bulldogs had been held scoreless.
Saint Mary's out-shot Adrian by a 16-5 margin and held a 7-2 edge in corner kicks.
The Belles (4-4-3, 2-2-3 MIAA) return to action on Sunday when they travel to Trine for a 4:00 p.m. contest against the Thunder to conclude the first leg of the double round robin conference schedule.