Belles Play to Draw Against Brits
ALBION, Mich. - The Saint Mary's soccer team came back from behind twice to tie the game and eventually played to their third consecutive double-overtime tie as the Belles and Albion played to a 2-2 deadlock.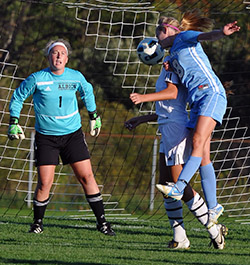 Maggie McLaughlin heads an attempt toward
goal at Albion. (Photo by Lowell Mc Ginnis)The host Brits struck first on a long-range shot off of a free kick to lead 1-0 just 15:02 into the game. Less than four minutes later, Jordan Diffenderfer connected with Maggie McLaughlin to even the score at 1-1 on a chip-in shot by McLaughlin.
Albion quickly regained the lead on another shot from distance for the 2-1 advantage in the 20th minute of action.
The contest remained 2-1 in favor of the Brits until late in the first half when Kerry Green's header off a corner kick from Mollie Valencia knotted the game at 2-2 with 5:08 to go before halftime.
The Belles out-shot the Brits 10-5 in the first half and 5-0 in the second half, but the game remained tied at 2-2 to force overtime. In the extra periods, neither team registered a shot in the first overtime while Albion had a pair of shots, one on goal, in the second stanza.
For Saint Mary's, it is the first time since joining the MIAA in 1997 that the Belles have played three consecutive overtime conference games.
Maggie McLaughlin picked up her second goal of the season. The assists by Jordan Diffenderfer and Mollie Valencia and the goal by Kerry Green were all the first points of the season for the trio.
Natalie Warner collected three saves while allowing two goals in 45 minutes of play. Chanler Rosenbaum picked up a save in the final 65 minutes of game time in goal.
The Belles (2-4-3, 0-2-3 MIAA) host Olivet on Saturday, September 28 at noon for an MIAA contest against the Comets.