Senior Day Success for Belles Against Brits
NOTRE DAME, Ind. - The Saint Mary's soccer team ensured only positive memories of Senior Day for the four members of the Class of 2014 as the Belles won a 1-0 contest at home against Albion on Saturday.
While the scoreboard may have implied a tight game, the Belles were the aggressors with more possession of the ball, more shots, and more control of the pace of play.
Saint Mary's came out in strong form against the wind in the first half by placing a pair of shots on goal in the opening 10 minutes against Albion. The Belles were able to keep the ball in the Albion defensive half of the field for most of the first half of play while limiting the Brits to just a single shot, which came in the 40th minute, in the opening period.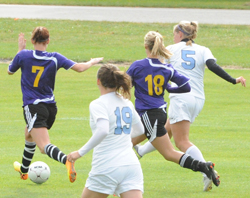 Maggie Wenzel (5) sends her game-winning
shot to goal.With the wind at their backs for much of the second half, Saint Mary's continued to pressure Albion from the opening whistle. Eight minutes into the period, Mollie Valencia slotted a pass from the center of the field to her right where Maggie Wenzel had a step on her defender, picked up the pass in-stride, and sent home the lone goal of the game from inside the 18-yard box for the Belles.
The Belles pushed for a second goal, but each of their following three shots on goal were pushed aside by Albion goalkeeper Mackenzie Hurlburt, who finished the game with seven saves.
Saint Mary's out-shot Albion by a 19-1 margin for the game with an 11-0 edge in attempts in the second half. Chanler Rosenbaum picked up the shutout in goal as the Saint Mary's defense had a collective effort to prevent the Brits from registering a shot on goal in the game.
The Belles (7-7-3, 5-5-3 MIAA) travel to Olivet for a 4:00 p.m. contest against the Comets on Wednesday, October 30.