Belles' Unbeaten Streak Snapped by Scots
NOTRE DAME, Ind. - Prior to today's contest, the last time the Saint Mary's soccer team suffered a loss was September 14 at Alma. The Scots snapped the Belles' seven-game unbeaten streak by taking a second win over Saint Mary's on Wednesday, this time by a 1-0 margin.
Just before the 20-minute mark in the game, the Belles had one of their best opportunities of the first half. A defender for the Scots turned the ball over directly to Rosie Biehl, who had a sizable amount of space between her and the nearest defender. The freshman dribbled at a sprint toward the goal and got off an open shot that went just wide for the Belles.
Two minutes later, the Scots had their first strong offensive threat as a shot from 20 yards out sailed high and off the crossbar. Six-and-a-half minutes later, Alma's Agatha Weddle flicked in a header off of a free kick by Autumn Root for the lone goal of the contest in the 30th minute of play.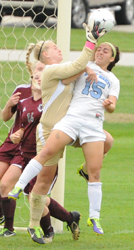 Alma's Julie Debus pulls
the ball away from Erin
Mishu early in the second
half.Saint Mary's came out of the break ready to battle for the equalizer. In the first eleven minutes of the half, the Belles had two corner kicks, three shots on goal, and another shot sail just above the crossbar. With less than 26 minutes remaining, the Scots were whistled for a hand ball 12 yards off the endline and less than 10 yards outside of the 18-yard box. Maggie McLaughlin headed the resulting free kick toward goal only to see her effort go two yards wide of the far post.
In the closing minutes of the game, the Belles made one big final push to get on the scoreboard. Lindsay Rzepecki sent an effort from distance on goal where her shot was pushed aside by the Alma goalkeeper. The save sailed away from the Scots' defense in the air to Erin Mishu, but the junior's header that appeared to be going in for the equalizer was covered up at the goal line.
The Belles out-shot the Scots 18-10 for the game, including a 10-3 edge in attempts in the second half alone. Saint Mary's also ended the contest with a 9-1 advantage in shots on goal. Jordan Diffenderfer led the Belles with three shots, all of which were on goal. Chanler Rosenbaum suffered the loss in goal while playing all 90 minutes for Saint Mary's.
Saint Mary's (6-5-3, 4-3-3 MIAA) travels to Calvin for a noon contest against the Knights on Saturday, October 19.