Belles Drop Opener to Pilots on Last-Minute Goal
Box Score

MISHAWAKA, Ind. - The Saint Mary's soccer team looked as though they were headed to overtime on a hot Friday night at Bethel until the host Pilots struck in the 90th minute for the lone goal of the game.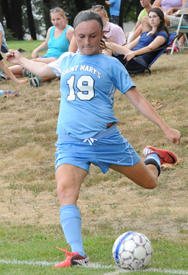 Rosie Biehl takes a corner kick
against Bethel.The Belles maintained possession for large periods of time in each half. In the second half, the Belles looked as though they would break through for the first goal of thea game. Jenn Jarmy put a shot on goal from inside the 18-yard box only to have it turned away. In the 74th and 75th minutes of play, Rosie Biehl had an effort pushed aside and saw another sail just above the crossbar.

After Saint Mary's continued to push forward for much of the final ten minutes, the game appeared to be heading to overtime. A ball cleared from the Belles' offensive half along the left side of the field found its way to Bethel's Nicole Steller, who lofted a shot from 30 yards out just below the crossbar and in for the decisive strike in the 1-0 final.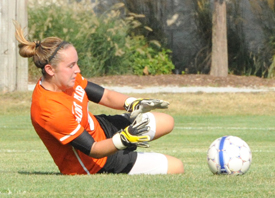 Chanler Rosenbaum comes out to make a stop
at Bethel.Chanler Rosenbaum had nine saves in goal for the Belles. Rosie Biehl tallied five shots, and Mary Kate Hussey added three shots, all on goal, in the loss.

The next contest for the Belles (0-1) will be their home opener on Monday, September 2 at 5:00 p.m. against Illinois Institute of Technology.