Belles Battle to Scoreless Draw Against Knights
NOTRE DAME, Ind. - The Saint Mary's soccer team played visiting conference opponent Calvin to a 0-0 double overtime tie on Wednesday evening.
Both teams had more than a few opportunities to get on the scoreboard on the evening. For the Belles, their best look came in the opening 10 minutes of play when Maggie McLaughlin's short-range shot was saved. The rebound attempt by Mollie Valencia was blocked by a defender as the Saint Mary's threat was stopped short.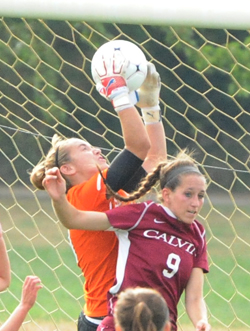 Chanler Rosenbaum cuts off a cross attempt
in the second half.In the 25th minute, the Knights got off a shot from inside the 18-yard box, but Chanler Rosenbaum had a one-handed punch to push the ball over the crossbar to thwart the attempt.
With the clock winding down late in regulation, Calvin made several late runs to put the pressure on the Saint Mary's defense. A defender for the Knights lofted a long-range shot, and the ball appeared to be on course to fall just under the crossbar until Rosenbaum had a drop-step back to the line and punched away the potential game-winner. Less than four minutes later with under six minutes left on the clock, Rosenbaum made a diving stop to her right to corral a shot headed for the far post to keep the game deadlocked at 0-0.
Each time the Knights pressured the midfield and the defense, the Belles held their resolve and kept Calvin off the scoreboard. Calvin held a 21-9 advantage in shots and a 13-4 edge in shots on goal. But at the end of 110 minutes of play, both teams had a clean sheet in the scoring column for the double-overtime tie.
For the Belles, it is the first time since September 12, 2007 that Saint Mary's has held Calvin without a goal in a game. Jordan Diffenderfer, Emily Rompola, Maggie McLaughlin, and Kaitlin Teichman all registered a shot on goal for the Belles.
Chanler Rosenbaum had a collegiate career-high 13 saves in goal on the way to the 110-minute shut out.
The Belles (2-4-1, 0-2-1 MIAA) look to pick up their first MIAA victory of the season on Saturday when they host Hope at noon.