Belles Shut Out by Flying Dutch
HOLLAND, Mich. - The Saint Mary's soccer team suffered a 2-0 loss at Hope on Tuesday evening.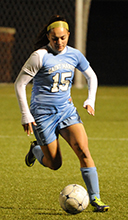 Erin Mishu led the Belles
with two shots against
Hope.The Flying Dutch got on the scoreboard in the 12th minute on a shot by Lindsey Bieri inside the near post off of a centering pass by Erin Jipping. The second Hope goal also came in the first half when Jipping sent a shot from a tight angle from ten yards off the endline at the edge of the 18-yard box inside the upper 90 on the far-post side for the 2-0 Flying Dutch lead.
The Belles appeared to be on their way to getting onto the scoreboard in the 34th minute. Kerry Green took a free kick just inside the Belles' offensive half of the field and sent a high-arcing ball into the box. Erin Mishu redirected the pass toward the penalty area and got a shot off just as the Hope goalkeeper met the shot off of her foot for the save.
The best opportunity for Saint Mary's in the second half came in the 69th minute when Kathryn Lueking's shot from 24 yards out ricocheted off the crossbar and above the goal.
Erin Mishu led the Belles with two shots in the game. Kerry Green, Maggie Wenzel, and Kathryn Lueking each added a shot in the game for Saint Mary's.
Chanler Rosenbaum made a pair of saves in goal for the Belles.
Saint Mary's (6-7-3, 4-5-3 MIAA) returns home to host Albion on Saturday, October 26 at noon.