Belles Tie Flying Dutch
NOTRE DAME, Ind. - After conceding an early goal, the Belles battled back to earn a 1-1 double-overtime tie against Hope on Saturday.
The Flying Dutch struck early with a header goal on a corner kick in the sixth-minute of play on either team's first true opportunity of the contest.
In the 29th minute, Kelly Wilson found the ball at her feet inside the 18-yard box, but her attempt to knot the score rolled just wide of the post. Eight minutes later, Mollie Valencia took a free kick from 22 yards out, but the wind lofted the attempt above the crossbar. Continuing to pressure for the game-tying goal, the Belles had a combination play between Maggie Wenzel and Jenn Jarmy waved offside.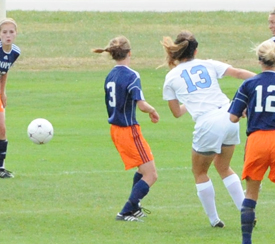 Emily Rompola watches her game-tying goal on
its way to the net.With the wind at their backs in the second half, the Belles continued to pressure the Hope defense after the break. After two corner kicks in the opening ten minutes of play, Saint Mary's broke through on their third corner kick of the half. Katilin Teichman's offering from the right-hand corner landed inside the box, where Emily Rompola's strike found its way between the goalkeeper and a defender standing on the near post for the equalizer.
Hungry for more, Saint Mary's continued to maintain possession for large periods of time while putting the ball in dangerous spots for the Hope defense. Maggie Wenzel had a strong touch to get past a defender on the endline and sent a cross inside the 6-yard box only to have the ball roll the length of the goal face and away from offense and defense alike.
In the fifth minute of second overtime, the Belles' best opportunity to end the game came when a ball played over the line of defense came down just outside the 18-yard box, where the Hope goalkeeper misplayed the bounce. But the Belles were unable to track down the ball for the open-goal chance. Rosie Biehl and Emily Rompola each had looks at goal in the final 1:02 of double overtime, but neither chance was on-goal.
Emily Rompola's game-tying goal was the first of her collegiate career while Kaitlin Teichman picked up her second assist of the season. Chanler Rosenbaum made two saves in goal for the Belles.
Saint Mary's (2-4-2, 0-2-2 MIAA) travels to Albion on Tuesday, September 24 for a 4:00 p.m. MIAA contest against the Brits.