Belles Bounce Scarlet Hawks
NOTRE DAME, Ind. - After allowing an early goal, the Saint Mary's soccer team responded with four unanswered goals of their own to defeat Illinois Tech by a 4-1 margin in their home opener on Monday evening.
Illinois Tech converted their second shot of the game with a mid-range shot that sailed inside the far post in the eighth minute to put the Scarlet Hawks up 1-0.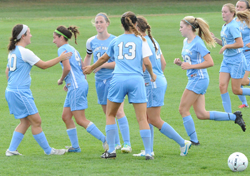 The Belles celebrate Kelly Wilson's (second
from left) goal.The Belles evened the score in the 20th minute when Kaitlin Teichman sent a cross well into the Illinois Tech defensive end and found Maggie McLaughlin for a header for Saint Mary's first goal of the 2013 campaign. Less than ten minutes later, Kelly Wilson punched in what proved to be the game-winner from the edge of the six-yard box on a failed clear by Illinois Tech in the 28th minute.
Saint Mary's continued to control the ball and the tempo of the game in the second half. Courtney Wright fed a pass up through the middle of the Scarlet Hawks' defense to a wide open Maggie Wenzel, who put away the breakaway opportunity in the 61st minute. Maggie McLaughlin later slipped the ball through to Jenn Jarmy mid-stride as the freshman notched her first career goal from 12 yards out in the 75th minute to round out the Belles' scoring efforts on the day.
The Belles out-shot the Scarlet Hawks by a 30-2 margin while maintaining possession of the ball for most of the contest.
Natalie Warner picked up the win in goal for the Belles, and Nicole Papiernik safely played a pair of long passes while playing the entire second half in goal.
Saint Mary's (1-1) will travel to Ohio this weekend for contests against Wilmington on Saturday at 2:00 p.m. and the College of Mount St. Joseph on Sunday at noon.