Belles Edge Hornets in Overtime
NOTRE DAME, Ind. - For the second consecutive game, the Saint Mary's soccer team prevailed in an overtime contest by a 1-0 score. This time, the Belles avenged an overtime loss earlier in the season to Kalamazoo with the extra-time victory.
The visiting Hornets controlled much of the tempo and offensive efforts in the opening 45 minutes of play as Kalamazoo out-shot the Belles by a 7-4 margin. With the wind at their backs, Kalamazoo registered four shots on goal in the first half. Each of those four shots on goal were turned away by Chanler Rosenbaum, who had a pair of diving efforts to keep the Hornets off of the scoreboard.
After the break, the Belles came out as the aggressors in terms of offense as Saint Mary's took 13 shots, four of which were on goal, to Kalamazoo's four shots. Kathryn Lueking got behind a volley in the 72nd minute for a strong shot on goal only to have Kalamazoo's Lucy Mailing cover it up on the line. With less than five minutes remaining in regulation, Erin Mishu sailed a shot from a few yards off of the endline across the face of the goal and narrowly missed the inside of the far post. A minute later, Rosie Biehl's effort from distance was collected by Mailing for her fifth save of the contest.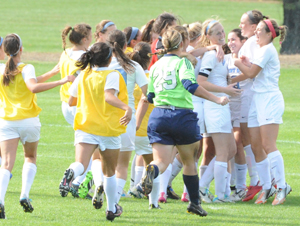 The soccer team rushes onto the field to celebrate
Jordan Diffenderfer's (third from right) game-winning
goal in overtime.Again, the Belles came out with the early pressure in the first overtime period. This time, it took less than four minutes for Saint Mary's to notch the game-winning and game-ending goal. In the 94th minute, Jordan Diffenderfer strongly deflected a clear attempt by Kalamazoo's goalkeeper at the edge of the 18-yard box back toward goal. The senior then raced around the goalkeeper and tapped the ball into the empty net for the lone goal of the game.
Chanler Rosenbaum had five saves while facing 11 shots and picked up her fourth shutout of the season in goal.
The Belles (6-4-3, 4-2-3 MIAA) return to action on Wednesday, October 16 when they host Alma beginning at 4:00 p.m.