Belles Picked Fourth in Pre-Season Poll
ROYAL OAK, Mich. – Women's soccer coaches in the Michigan Intercollegiate Athletic Association have chosen defending champion Calvin as the preseason favorite for the 2013 season while Saint Mary's was tabbed fourth.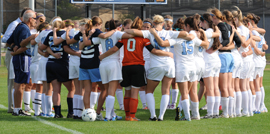 Calvin, who won both the MIAA championship and conference tournament last season, received seven out of a possible nine first-place votes in the preseason poll. Alma, which was picked to finish second, and Saint Mary's each received one first-place vote.
Hope was picked third in the poll, followed by Saint Mary's, Adrian, Kalamazoo, Olivet, Trine and Albion.
Poll Results (first-place votes in parenthesis): 1. Calvin (7) 9 pts. 2. Alma (1) 18. 3. Hope 25. 4. Saint Mary's (1) 28. 5. Adrian 31. 6. Kalamazoo 43. 7. Olivet 52. 8. Trine 58. 9. Albion 60.
MIAA teams will begin non-conference action Friday, Aug. 30, with the first conference games set for Monday, Sept. 9. The Belles open their schedule at Bethel on Friday, August 30 at 5:00 p.m.