Belles Keep Comet Comeback at Bay for Win
OLIVET, Mich. - The Saint Mary's soccer team withstood a late push by Olivet to keep the edge in a 2-1 final in MIAA women's soccer action on Wednesday evening.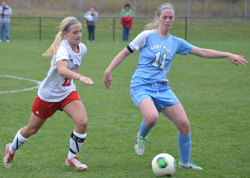 Mary Kate Hussey plays the ball away from
Olivet's Lauren Vanderhoff.
(photo credit: Rebeka Wiersma)Through the first 45 minutes of play, the Belles were squarely in control of the contest. Saint Mary's out-shot Olivet by an 8-1 margin and held a 1-0 lead after Rosie Biehl's shot off of a feed from Jordan Diffenderfer stayed true from 10 yards out and slipped inside the near post in the 11th minute of play.
The Comets were able to apply early pressure in the second half of play only to have back-to-back shots in less than a minute turned aside by Chanler Rosenbaum. The teams traded shots on goal in the 72nd minute and 73rd minute only to see each side's goalkeepers come up with saves and keep the score at 1-0 in favor of Saint Mary's.
Shortly after the Comets were whistled for a foul, Kelly Wilson broke through for the Belles' second goal of the game with an effort from just a few steps off of the goal line and inside the near post in the 81st minute.
Olivet cut that 2-0 lead in half with 5:55 remaining in the second period when Nicole Borek's chip shot sailed into the goal for the Comets. Borek nearly had the equalizer in the final minute of play as her effort went off of the crossbar with 33 seconds left in the contest.
It was the 13th game of the 2013 season in which the Belles conceded a goal or less.
Rosie Biehl's goal was her team-leading fifth of the season. Kelly Wilson's game-winner in the second half was her third goal of the year and her second game-winning strike. Chanler Rosenbaum earned the win in goal with three saves while playing all 90 minutes.
The Belles (8-7-3, 6-5-3 MIAA) travel to Adrian for a noon match-up against the Bulldogs on Saturday, November 2.