Wilson Named MIAA Offensive Player of the Week
ROYAL OAK, Mich. – The Michigan Intercollegiate Athletic Association has named Saint Mary's midfielder Kelly Wilson its Offensive Player of the Week in women's soccer for games played through Sept. 8.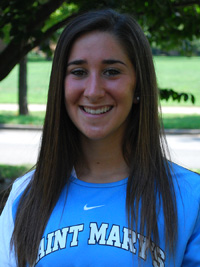 Wilson, a junior from Ada (Grand Rapids Catholic Central HS), scored two goals and displayed strong play in the middle of the field for the week in leading the Belles to nonconference victories over Illinois Tech, 4-1, and Mount St. Joseph, Ohio, 3-0. The goal against Illinois Tech was the game-winning effort for the Belles.
It's the first time in Wilson's career she has been named MIAA Player of the Week.