Belles Play to Scoreless Draw Against Brits
ALBION, Mich. - The Saint Mary's soccer team played to a 0-0 double overtime tie in a conference contest at Albion on Saturday.
The Belles opened up the game with an early scoring opportunity as Kelly Wilson put a shot on goal only to have the effort pushed aside in the first three minutes of play.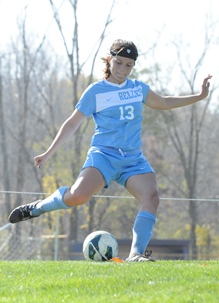 Emily Rompola helped the Belles to
their fourth shutout of the season.Playing into the wind throughout the first half, the Belles continued to keep the pressure on the Brits and maintain strong stretches of possession. Mary Kate Hussey put a shot over the crossbar in the 16th minute, and Liza Felix had a strike go wide right twelve minutes later.
The best scoring opportunity for the Brits came in the 40th minute of play when a long-range shot carried in the wind and traveled toward goal, but Chanler Rosenbaum was able to make the leaping save and trap the ball to prevent any rebound to keep the game deadlocked at 0-0.
The second half of play saw the Brits hold a 4-3 advantage in shots while both teams continued to create opportunities. Rosenbaum came up with a big save in the 67th, and Albion put a shot of the post in the 76th minute of play. The Belles put shots on goal in the 74th and 79th minute both from mid-range, but both attempts were collected by the Albion goalkeeper.
In the first overtime, Maggie McLaughlin had a header off a free kick by Kerry Green in the opening two minutes only to have the effort saved on the goal line just inside the right post. The Brits, meanwhile, had three shots - all of which were off the mark.
In the second extra period, Rosenbaum came up with a save in the first minute of action. Erin Mishu had a strike from inside the 18-yard box in the 106th minute only to see the ball roll right of the post. The Belles had a late free kick from the left flank but were unable to capitalize as the game ended 0-0 after 110 minutes of play.
Mary Kate Hussey and Liza Felix each had two shots in the game for Saint Mary's. Chanler Rosenbaum made three saves in goal while earning her 18th career shutout for the Belles.
Saint Mary's (6-9-2, 4-7-2 MIAA) return home to host Olivet on Tuesday, October 28 at 4:00 p.m.