Belles Bounced in Overtime by Brits
NOTRE DAME, Ind. - A closely played contest did not have the desired outcome for the Saint Mary's soccer team on Wednesday evening as the Belles lost 1-0 to conference foe Albion on a goal less than a minute and a half into overtime.
After Albion came out and held possession of the ball for much of the first 10 minutes of play, the Belles were able to withstand the pressure while pushing forward to become the aggressors. Just before the 13 minute mark, Kerry Green had a well-struck free ball from 35 yards out which landed just beyond the out-stretched foot of Liza Felix inside the six-yard box and fell to the Albion goalkeeper.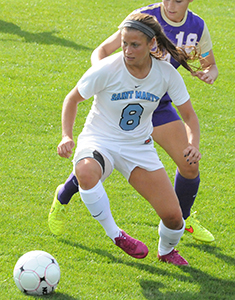 Jenn Jarmy looks to pass while keeping
possession against Albion.Twelve minutes later, the Belles had another strong opportunity to get on the scoreboard. Lindsay Rzepecki sent a cross through the box from the left side of the field only to have the ball travel beyond the closest Saint Mary's player and roll out of bounds for the goal kick for the Brits.
Continuing to push forward with heavy pressure in the final two minutes of the opening half, the Belles put the ball well inside the penalty area at the 1:45 mark and again with just under a minute remaining on the clock only to come up empty-handed.
Much like the first half, the Belles had some chances on which they were unable to capitalize with a goal. Erin Mishu sent a low, strongly driven ball through the six-yard box in the first five minutes of the second half, and Jenn Jarmy had multiple crosses from the right flank travel into dangerous positions only to be played away harmlessly.
In the first overtime, the Belles were whistled for a foul less than a yard outside the 18-yard box in the middle of the field. The Brits seized the opportunity with a strong shot that found its way just inside the left post for the game winner in the 92nd minute of play.
Erin Mishu, Maggie McLaughlin, and Jenn Jarmy all had a shot on goal for the Belles. Chanler Rosenbaum made seven saves in goal.
The Belles (3-6-0, 1-4-0 MIAA) are next in action on Saturday, September 27 when they travel to Olivet for a noon game against the Comets.