Jarmy's Last-Second Strike Lifts Belles Past Scots
ALMA, Mich. - Jenn Jarmy scored with two seconds remaining in regulation to lift the Saint Mary's soccer team to a 3-2 conference win at Alma on Tuesday evening.
The Belles took command early in the game against the Scots. After Chanler Rosenbaum pushed aside the first two Scots shots on goal, Saint Mary's broke through in a big way. Kerry Green played a cross into the middle of the field where Maggie McLaughlin was able to get a clean header shot off and into the goal for the first score of the game 22 minutes into the contest.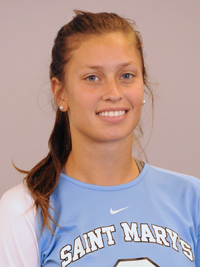 Jenn Jarmy scored the game-winner
with two seconds left in regulation.With less than ten minutes left on the clock before the halftime break, the Belles struck again. Green continued to fill the roll of play maker as the senior defender sent a free kick into dangerous territory. On the receiving end of Green's cross was Rachel Moore, who sent a header above the Scots' goalkeeper and into the back of the goal for the 2-0 Saint Mary's lead late in the half.
The game remained 2-0 in favor of the Belles until the 61st minute of play when the Scots broke through for their first goal of the game. In the 85th minute, Alma got the equalizer after a pass from the left flank landed at the feet of an open player on the far post. Rosenbaum came off her line quickly but was unable to come up with the difficult save.
Just as the game appeared to be heading to overtime, the Belles stunned the Scots late. Jenn Jarmy found herself with the ball and a lot of space. The sophomore took full advantage of her breakaway opportunity and delivered the knockout punch with the game-winning goal with just two seconds remaining on the clock.
Chanler Rosenbaum earned the win in goal while collecting five saves for the Belles. The win over Alma is the Belles' first since the 2006 season when Saint Mary's defeated the Scots at home by a 3-0 margin.
The Belles (5-8-1, 3-6-1 MIAA) return home to host Calvin on Saturday, October 18 at noon.