Belles Held Scoreless by Scots
NOTRE DAME, Ind. - The Saint Mary's soccer team lost a 3-0 conference contest at home against Alma.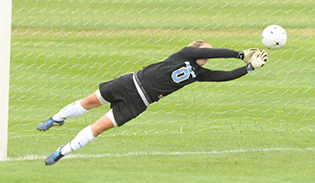 Chanler Rosenbaum makes one of her eight saves
against Alma.The visiting Scots put on the pressure early as Alma put a pair of shots on goal in the opening 13 minutes of play only to have Chanler Rosenbaum push them aside. After the second of those two saves, the Belles had one of their best opportunities of the opening 45 minutes of play. Liza Felix played the ball forward along the left side of the field to Lindsay Rzepecki. Rzepecki arced a cross from the wing to the top of the six-yard box. The ball went to Erin Mishu, who was marked and played the ball to the top of the 18-yard box to Maggie McLaughlin. McLaughlin's strike was corralled by the Alma goalkeeper to keep the game at 0-0.
On their ensuing possession of the ball, the Scots carried the ball deep into their offensive end along the right side of the end line. A pass along the end line found its way through traffic to an open player at the far post for the one-timer and a 1-0 lead for Alma in the 16th minute.
The Scots doubled their lead in the 33rd minute. Rosenbaum made a diving save to her left, but the redirected ball went directly to an Alma player for a goal inside the six-yard box.
The Belles made a big push in the closing minutes of the half to try to cut into the lead. Baylee Adams put a ball wide left, Kelly Wilson had a strike go wide right of the goal, and Erin Mishu had a mid-distance shot stopped by the crossbar all within two-and-a-half minutes of play. Saint Mary's earned their first corner kick of the contest in the final minute of the opening half, but Mishu's effort also went wide.
The Scots added their final goal of the game in the first nine minutes of the second half with a header off of a corner kick for the 3-0 lead.
Alma held a 17-15 edge in shots over the Belles with an 11-5 advantage in shots on goal.
Chanler Rosenbaum made eight saves in goal for the Belles. Liza Felix led Saint Mary's with four shots on the afternoon.
The Belles (2-4, 0-2 MIAA) travel to Calvin on Tuesday, September 16 for a conference game against the Knights beginning at 4:00 p.m.