Belles Come Up Short Against Pilots
Submitted by

smiesle

on
NOTRE DAME, Ind. - The Saint Mary's soccer team suffered a 3-1 loss at home against cross-town foe Bethel in their season opener on Friday evening.
The Belles controlled the tempo and the ball from the opening whistle throughout much of the first half of play. Saint Mary's was poised to get on the scoreboard in the first seven minutes of play, but Liza Felix's shot rocketed off the far post and away from any follow up attempt.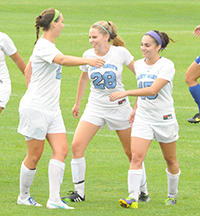 Erin Mishu (right) celebrates her
goal with Kathryn Lueking and
Kerry Green.It did not take much longer, however, for the Belles to tally the first goal of the game. As she was pushing up the field to put pressure on the Bethel goalkeeper, Erin Mishu found herself a yard in front of the Pilots' netminder as she was attempting to clear the ball up-field on a back-pass from the defense. The effort to clear the ball ricocheted off Mishu and the senior deflected the ball directly into the goal for the 1-0 Saint Mary's advantage in the 12th minute of play.
Bethel pulled even ten minutes later. After a handball was called ten yards outside of the box, the Pilots' Diana Diaz-Diurych scored a long-range shot on the ensuing free kick to knot the game at 1-1.
Midway through the half, the Belles put back-to-back shots on goal as Emily Rompola and Gabby Guerra continued to put the pressure on the Bethel backfield. A minute later, Lindsay Rzepecki fired a high-arcing shot from the edge of the 18-yard box that looked as though it would have enough loft to allude the goalkeeper while also having enough tailing movement to sink below the crossbar. The tailspin, however, did not create enough break as her shot glanced off the crossbar and away from the goal line.
Bethel earned a corner kick late in the first half of play, but the Belles quickly turned it into a counter attack opportunity. Emily Rompola found the ball at her feet just beyond midfield with several yards of green space between her and the goal. The sophomore raced toward the goal in the waning seconds of the half only to have her shot deflected away at the last moment.
The Pilots took the momentum away from the Belles in the second half with a long-range goal off of a cleared corner kick in the 62nd minute and an insurance strike in the 75th minute.
Saint Mary's out-shot Bethel 16-8 in the game while also gaining an 8-2 advantage in corner kicks in the contest.
Erin Mishu scored the fifth goal of her career, and Liza Felix led all players with four shots. Chanler Rosenbaum tallied a save in goal while shouldering the loss.
The Belles (0-1) return to action on Sunday, August 31 when they host Mount St. Joseph at 1:00 p.m.