Belles Snap Skid Against Knights
GRAND RAPIDS, Mich. - The Saint Mary's soccer team claimed a 1-0 win at Calvin for their first MIAA win in program history against the Knights on Tuesday afternoon.

Erin Mishu scored the game-
winning goal in a 1-0 victory
over Calvin.The first half saw both teams split possession while the Knights were able to hold an 8-2 edge in shots over the first 45 minutes of play. The Belles closed out the half with a strong push over the final five minutes. Kathryn Lueking took a shot deep in Calvin's defensive half only to have the effort blocked by the defense. The resulting loose ball, however, failed to yield another opportunity for Saint Mary's.
The Belles came out of the halftime break with a high level of energy and put the pressure on Calvin's defense early. Gabby Guerra and Lindsay Rzepecki each put a shot on goal in the opening minute of the second period. In the 52nd minute, Chanler Rosenbaum made a diving stop to keep the score deadlocked at 0-0 as the Belles' defense continued to clamp down on the Calvin front line.
As the two teams continued to battle for continued possession and work for looks at goal, Saint Mary's delivered what proved to be the decisive blow at the start of the 67th minute of play. Jenn Jarmy sent a cross in toward the goal where Erin Mishu connected with a header and her second goal of the 2014 season.
Energized by the late lead, the Belles' defense continued to stand tall while the midfield and forwards all helped Saint Mary's ice the Knights late and preserve the 1-0 victory. After out-shooting the Belles in the first half, Calvin was held to only three shots over the final 45 minutes of play with just one of those attempts being on goal. Saint Mary's, meanwhile, put three of their four shots in the second half on goal.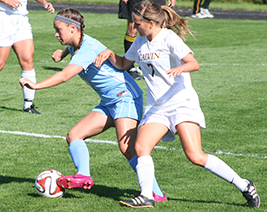 Jenn Jarmy (left) keeps possession of the
ball against Calvin. (photo courtesy of
Jeff Febus, Calvin SID)The Belles had entered the day 0-25-6 against Calvin over the past 31 meetings dating back to 1994. The last victory Saint Mary's had against the Knight prior to today came on October 7, 1993 when the Belles were 2-0 victors over Calvin in Grand Rapids.
Erin Mishu's lone goal of the game was the second game-winner of her career while Jenn Jarmy picked up the first assist of her collegiate career.
Chanler Rosenbaum registered the shutout victory in goal while also collecting three saves. The Belles (3-4, 1-2 MIAA) are back in action on Saturday, September 20 when they travel to conference-leading Hope for a noon contest against the Flying Dutch.