Belles Sink Knights
NOTRE DAME, Ind. - The Saint Mary's soccer team earned a 2-1 win over Calvin at home on rainy and cold afternoon on Saturday.
Jenn Jarmy got the Belles on the scoreboard early. After Liza Felix played the ball into the box from the center of the Saint Mary's offensive half, the ball met both Jarmy and the Knights' goalkeeper at the same time. Jarmy was able to play the ball around the Calvin goalkeeper and tapped in the goal from a step inside the right post in the second minute of play.
The lead was short-lived as Calvin tied the game seven minutes later on a tap in from the far post on a ball played through the box. With the wind at the Knights' backs, Calvin continued to put the pressure on the Saint Mary's defense. The Belles, however, had an answer and a stop for everything the Knights threw their way.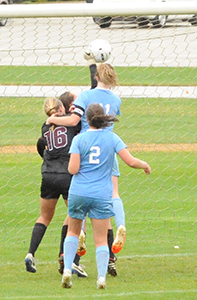 Mary Kate Hussey heads the
game-winner in against Calvin.The control of the ball and the tempo of play shifted with the switch of ends at the halftime break as the Belles took advantage of having the wind at their backs. That pressure by the Saint Mary's midfield and forwards yielded three corner kicks early in the half for the Belles.
On that third corner kick of the period, the Belles were able to break through in a big way. Emily Rompola sent her corner kick carried high enough and far enough to Mary Kate Hussey well inside the six-yard box. The senior center back elevated and headed home what proved to be the game-winner for the Belles in the 59th minute.
In an attempt to find the equalizer late, the Knights pushed up and fought against the wind to put the pressure on the Belles' defense late. Chanler Rosenbaum stopped all four shots on goal the Knights had over the final half of play, and the Saint Mary's defense stood strong deep in their own end to keep the game 2-1 in favor of the Belles.
Chanler Rosenbaum had eight saves in goal while picking up the win.
The Belles (6-8-1, 4-6-1 MIAA) host conference-leading Hope on Wednesday, October 22 starting at 2:00 p.m.