Belles Blank Scarlet Hawks
CHICAGO, Ill. - The Saint Mary's soccer team closed out the non-conference portion of their schedule with a 1-0 win at Illinois Tech on Sunday afternoon.
The opening 45 minutes of play saw the Belles hold a 5-3 advantage in shots with three of Saint Mary's attempts being on goal. The Belles' defense held the Scarlet Hawks without a shot on goal in the first half of play.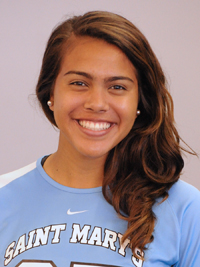 Liza Felix scored her first collegiate
career goal in the Belles' 1-0 win.The second half saw the Belles earn a corner kick within the first minute of play, but the opportunity did not yield a scoring opportunity for Saint Mary's. Illinois Tech had their best look at getting on the scoreboard. In the 50th minute, the Scarlet Hawks put a shot wide of the goal. A minute later, Illinois Tech put their first and only shot on goal only to have Chanler Rosenbaum turn the effort aside to maintain the 0-0 tie.
The Belles finally broke through in the waning minutes of the second period. After peppering the defense and Illinois Tech with shots for nearly ten solid minutes, Liza Felix got Saint Mary's on the scoreboard. The sophomore forward found the ball at her feet in the 74th minute and sent home the game-winner, which was also the first goal of her career, with a solid shot after a well-played ball by Abby Garcia.
The Scarlet Hawks kept up the pressure in pursuit of the equalizer but came up empty-handed over the final 15 minutes of play as the Belles turned in their first clean sheet of the 2014 season.
The Belles held an 18-6 advantage in shots over the duration of the game while out-shooting Illinois Tech 13-3 in the second half alone.
Nicole Papiernik and Chanler Rosenbaum posted the combined shutout in goal for Saint Mary's. Rosenbaum collected the lone save while registering the winning decision in goal.
The Belles (2-2) open conference play when they host Kalamazoo on Thursday, September 11 at the Saint Mary's soccer field starting at 4:00 p.m.