Belles Squad Tabbed Fourth in Preseason MIAA Poll
FREELAND, Mich. - The Saint Mary's soccer team earned the fourth place nod in the 2014 MIAA Women's Soccer Preseason Poll.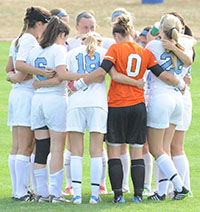 National Soccer Coaches Association of America preseason No. 24 and defending conference champion Calvin is favored by league coaches to claim the top spot in the MIAA in 2013. Hope, who finished two points out of second place a year ago, were selected second, and Alma was chosen third.
The Belles finished the 2013 season in fifth place and were just three points out of fourth place a year ago.
The Saint Mary's soccer team opens up their season at home on Friday, August 29 at 5:00 p.m. when they host cross-town foe Bethel. The conference portion of the season begins on Thursday, September 11 when the Belles host Kalamazoo at 4:00 p.m.
2014 MIAA Women's Soccer Preseason Coaches Poll
1. Calvin (8) 8 points
2. Hope (1) 15 points
3. Alma 23 points
4. Saint Mary's 33 points
5. Adrian 35 points
6. Kalamazoo 42 points
7. Albion 50 points
8. Olivet 56 points
9. Trine 62 points