Belles Battle Back to Tame Lions
NOTRE DAME, Ind. - After falling behind Mount St. Joseph 1-0 in the first half, the Saint Mary's soccer team responded with a goal to force overtime and won the game less than 3:30 into the extra period for their first victory of 2014.
With the game knotted at 0-0 in the late minutes of the first half, the visiting Lions took advantage of a set piece opportunity in the 36th minute. The Mount St. Joseph free kick found its way into the box and at the feet of Brenna Lonneman, whose shot was true and gave the Lions the 1-0 advantage.
The Belles looked to be getting the equalizer less than five minutes into the second half when Erin Mishu was fouled inside the 18-yard box to earn a penalty kick. Fellow senior Kerry Green was called upon to take the penalty kick, but the Lions' goalkeeper got a good jump on the ball and made a diving save to keep the game at 1-0.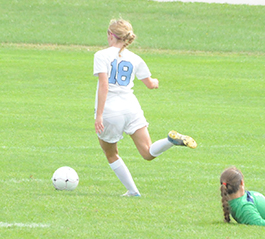 Maggie McLaughlin shoots the game-winner
in overtime against Mount St. Joseph.It was not much longer, however, until Saint Mary's broke through for the tying goal. The Belles earned a corner kick in the 58th minute, and Maggie McLaughlin sent a high-arcing cross into the box. After the ball bounced off a couple players from both teams, it settled at the feet of Mary Kate Hussey, who one-timed the ball solidly into the back of the net for the 1-1 tie.
The Belles continued to apply pressure as they looked to notch the game-winner. Despite out-shooting Mount St. Joseph 8-3 over the final 30 minutes of play, Saint Mary's could not find the go-ahead goal and the contest went to overtime.
From the opening whistle of the extra period onward, the ball and tempo were squarely controlled by the Belles. Three minutes into overtime, Gabby Guerra found Maggie McLaughlin in the middle of the field just a few yards off the 18-yard box. McLaughlin then dribbled past two defenders, made the Lions' goalkeeper miss on her slide tackle attempt, and sent home the game-winner.
Natalie Warner made a pair of saves while starting in goal and playing the first 45 minutes of the contest. Chanler Rosenbaum came in at the half and picked up the win and a save over the final 48:28 of play.
Mary Kate Hussey tallied the second goal of her collegiate career while Maggie McLaughlin notched her first-career game-winning goal for the Belles.
Saint Mary's (1-1) returns to play on Tuesday, September 2 when they travel to No. 20 ranked Illinois Wesleyan for a 7:30 p.m. contest.