Belles Grounded by Comets
OLIVET, Mich. - The Saint Mary's soccer team lost a 2-1 conference contest at Olivet on Saturday afternoon.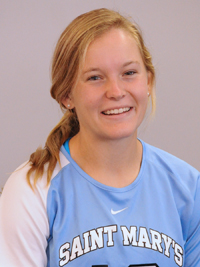 Maggie McLaughlin scored the
Belles' goal against Olivet.After conceding a goal in the fifth minute of play, the Belles pulled even in the ninth minute of action. Maggie McLaughlin tied things up 8:30 into the first period with a goal off of a set piece.
Kathryn Lueking, Abby Garcia, and McLaughlin each added shots on goal over the final 36:30 of the first half, but each of those three efforts was turned aside by the Comets' goalkeeper.
Olivet came out of the halftime break and put three shots on goal in the opening fourteen minutes of action. Chanler Rosenbaum came up with three saves to keep the game deadlocked at one goal apiece.
The game remained knotted at 1-1 until the 77th minute when the host Comets got the game-winner. Olivet put a shot off the crossbar, and Rosenbaum saved to follow-up shot out of bounds. On the ensuing corner kick, the Comets broke through with the decisive goal.
The Belles' best look at another equalizer came in the 89th minute of play as Erin Mishu registered a shot on goal, but the effort was stopped with a save as the Comets held on late.
Olivet held a 13-9 advantage in shots with an 8-6 edge in shots on goal.
Chanler Rosenbaum made six saves in goal for the Belles.
The Belles (3-7, 1-5 MIAA) travel to Adrian on Tuesday, September 30 for a 7:00 p.m. contest against the Bulldogs.