Felix's Late Goal Lifts Belles Past Thunder
NOTRE DAME, Ind. - Liza Felix drilled home the game's only goal with 1:56 left in regulation to give the Saint Mary's soccer team a 1-0 conference win over visiting Trine on Saturday.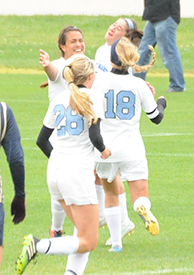 Liza Felix (top left) celebrates
with Kelly Wilson and Maggie
McLaughlin after scoring late
against Trine.The Belles had a handful of good opportunities in the first half. Erin Mishu put a shot on goal in the opening two minutes, and Kerry Green's header off of a free kick sailed just high of the crossbar in the 13th minute of play. In the 30th minute of play, Maggie McLaughlin got behind a loose ball in dangerous territory, but the Trine goalkeeper came up with the save to deflect the ball over the crossbar to keep the game scoreless. Two minutes later, Liza Felix found some space inside the 18-yard box and also had a good look at putting the Belles on top, but the sophomore's effort deflected off the post.
Trine's best opportunity in the first half came in the 41st minute of play. The Thunder had possession of the ball with some space, and Trine's Carly Osinski launched a shot from 30 yards out. Chanler Rosenbaum timed her leap well and punched the high-lofted shot over the crossbar to keep the game 0-0.
Saint Mary's had the opening possession to start the second half, and Lindsay Rzepecki had some space in the middle of the field to pressure the Trine defense. The junior, however, was cut off by a defender just inside the 18-yard box before she could get a shot off.
The Belles held an edge in shots on goal as they had three attempts turned away within a six-and-a-half minute span midway through the half. Saint Mary's continued to have the better looks at goal, but the game stayed 0-0 until late in the game. As the clock wound down to the two-minute mark, the Belles broke through. Maggie McLaughlin flicked a pass over a Trine defender on her back toward the right side of the field to a wide open Liza Felix. Felix settled the pass and sent the game-winner into the back of the net with 1:56 remaining for the 1-0 late lead.
Chanler Rosenbaum registered her 17th career shutout in goal while making three saves for the Belles.
Saint Mary's (4-7-1, 2-5-1 MIAA) travel to Kalamazoo on Friday, October 10 for a 7:00 p.m. conference game against the Hornets.