Belles Come Up Short Against Brits
Rachel McCarthy tallied ten saves in goal.
Maggie McLaughlin and Kathryn Lueking each had two shots and one shot on goal.
Jenn Jarmy, Lindsay Rzepecki, and Emily Rompola each added a shot.
ALBION, Mich. - The Saint Mary's soccer team ended on the wrong side of a 2-0 final against Albion in conference play on Wednesday afternoon.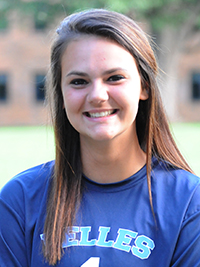 Rachel McCarthy made 10 saves
for the Belles.The Belles defense held off the Brits early after a pair of corner kicks through the first three minutes. On the second of those corner kicks, Rachel McCarthy came up with a save off a header to hold Albion at bay. Just a few minutes later, the Belles had their first solid chance of the afternoon as Maggie McLaughlin had a shot on goal turned away in the sixth minute of action.
McCarthy continued to hold her ground with three more saves while Kathryn Lueking put a shot wide left through the opening 12 minutes of play. As the clock moved past the midway point of the opening period, the Belles got back to back shots from McLaughlin and Jenn Jarmy in the 24th and 25th minutes, but both strikes were off the mark as the game continued to move toward halftime.
With less than five minutes remaining in the first half, the Belles fought off another Albion corner kick shortly before Lueking sent a shot on goal. The senior's strike, however, was corralled by the Brits' goalkeeper as the game stayed deadlocked at 0-0 at the half.
Albion came out of the halftime break and fired four shots on goal in the opening 15 minutes of play, but McCarthy continued to have an answer for the Brits' offense at the goal line. Emily Rompola then gave Saint Mary's their first chance at scoring in the second half with a shot on goal in the 65th minute, but another save on the Albion end kept it 0-0.
After the Belles played toe-to-toe with the Brits through the first 70 minutes of play, Albion broke through with a rebound goal in the 72nd minute and added an insurance goal in the 76th minute for the 2-0 final.
Maggie McLaughlin and Kathryn Lueking each had two total shots with one shot on goal for the Belles. Emily Rompola added a shot on goal, and Lindsay Rzepecki and Jenn Jarmy each registered a shot. Rachel McCarthy had her second double-digit save performance of the season with 10 stops in goal.
The Belles (1-9-1, 1-7-1 MIAA) host Olivet on Saturday at the Jr Irish Airport Fields starting at noon.