Belles Stopped by Brits
Cara Givens made nine saves in goal
Maggie McLaughlin had three shots
Four additional players added a shot
SOUTH BEND, Ind. - The Saint Mary's soccer team fell by a 2-0 score in their first MIAA contest of the season on Wednesday night against Albion.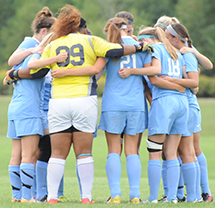 In the second minute of play, the Brianna Hart cleared an early shot by Albion off the goal line to keep the Brits from gaining the early lead. Cara Givens followed up with a pair of saves in the first six minutes. In the twelfth minute of action, the Belles got their first strong chance at scoring. A free kick along the right side of the field played into the box by Emily Rompola found its way to Maggie McLaughlin well inside the 18-yard box, but the senior's strike was off the mark.
The visiting Brits, however, broke through in a big way with quick back-to-back goals in less than a three minute span. Domenique Sarnecky had an unassisted effort in the 20th minute, and Caroline Eagan followed suit in the 22nd minute for Albion.
Late in the half, the Belles had another opportunity deep in Albion territory. A loose ball fell at the feet of Mary Kate McCarthy, but her shot was met immediately off of her strike as the Brits' goalkeeper came off the line to stop the threat.
In the first five minutes of the second period, the Belles continued to make a push for a goal. Liza Felix crossed the ball in front of the goal, but Maggie McLaughlin's effort went just over the crossbar. Midway through the half, Brianna Hart was on the passing end of a cross into the box, but Baylee Adams had her shot blocked.
The Belles earned three corner kicks over the final two minutes of play, but none of those chances were able to yield a late comeback for Saint Mary's.
Albion held a 21-7 margin in shots for the game, but Saint Mary's limited the Brits to just five shots over the final 45 minutes of play while keeping possession of the ball for longer stretches than Albion in the second half.
Cara Givens made nine saves in goal, and Maggie McLaughlin had three shots to lead Saint Mary's. Rachel Moore, Mary Kate McCarthy, Baylee Adams, and Emily Lambert each added a shot.
The Belles (0-3, 0-1 MIAA) return to the pitch on Saturday, September 12 when they travel to Olivet for a 2:30 p.m. contest against the Comets.