Belles Edged Out by Pilots in Season Opener
Liza Felix led the team with three shots, all of which were on goal
Cara Givens made four saves
The Belles had more shots on goal in the second half than the Pilots
MISHAWAKA, Ind. - A goal late in the first half proved to be the difference as the Saint Mary's soccer team fell by a 1-0 final in their season opening contest at Bethel on Wednesday night.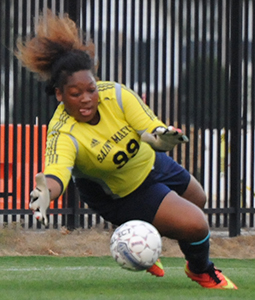 Cara Givens made four saves in goal for
the Belles.The first half saw the Belles have two strong scoring chances come up just short. In the 15th minute of play, Maggie McLaughlin carried the ball into dangerous territory only to have her shot from mid-distance saved. Seven minutes later, Liza Felix found herself on the right side of the field with a fair amount of space in front of her. The Pilots' goalkeeper was playing off her line, and Felix launched a shot to try to capitalize on the opportunity. The Bethel goalkeeper, however, was able to back track just enough to make the save and keep the game deadlocked at 0-0.
With less than four minutes remaining in the opening half, the Belles were whistled for a foul from less than 30 yards out from goal. The Pilots sent a shot just inside the Belles' wall and past the defense for the 1-0 lead.
Undeterred, the Belles came out hungry for the equalizer in the second half. Saint Mary's had three dangerous chances in the first ten minutes of play, but each of those three chances were unable to yield a goal.
As the half wore on, Saint Mary's continued to keep the pressure on the Pilots. In the 69th minute, Mary Kate McCarthy played the ball up along the right flank to Baylee Adams. Adams was unable to beat the last defender, however, as the transition scoring opportunity was stopped. Five minutes later, Kate Vasile had a shot from the left side of the 18-yard box stopped just short of the goal line.
The best of the Belles' chances came in the final 11 minutes of play. Jenn Jarmy crossed a ball into the box from the right flank to Felix, who tried to flick a close-range shot over the keeper only to see the Bethel netminder barely get enough of a hand on the ball to deflect it off the top of the crossbar. Then, with less than seven minutes left in regulation, Jarmy sent a long shot from the right side of the field just wide of the left post as the keeper was unable to track the effort as the Belles were unable to net the equalizer.
Liza Felix had a game-high three shots on goal while Maggie McLaughlin and Kate Vasile each added a shot on goal for the Belles. Cara Givens made four saves in goal on the night.
The Belles (0-1) are back in action on Saturday, September 5 when they host Manchester at noon at the Junior Irish Soccer Fields.