Gillis Named All-Region by NFCA
STARKVILLE, Miss. - Saint Mary's senior Angela Gillis was named to the All-Region Third Team in the Central Region by the National Fastpitch Coaches Association as announced by the NFCA on Monday.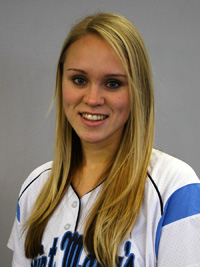 Gillis was one of 45 student-athletes to earn All-Region honors for the Central Region. She joins eight other MIAA players on the All-Region squad for the 2012 campaign. The Central Region is comprised of 52 NCAA Division III schools from Indiana, Michigan, Ohio, Kentucky, Pennsylvania, and West Virginia.

The senior second baseman/pitcher started each of the Belles' 40 games on the year. She led the team with 48 hits and was second on the team in batting average (.356) as well as at bats (135). She also led her team in multi-hit games with 15, which included a team-high five three-hit performances in 2012. As of the May 6 NCAA Statistical Ranking Summary, Gillis was ranked 54th among all Division III softball players in the "toughest to strikeout" category as she had just four strikeouts in 140 plate appearances.

In the field, she was a stalwart in the Belles' defense as she boasted a .980 fielding percentage, committing just three errors in 150 chances at second base and in the circle. She was also part of six double plays on the season.

For Gillis, it is the first All-Region honor of her career. The Belles finished the year 27-13 as Gillis was a part of a senior class that won 90 games in the past four seasons at Saint Mary's.

To read the full list of the eight All-Region teams, visit https://nfca.org/index.php/awards/louisville-sluggernfca-all-americans/4627-2012-diii-all-region-teams.