Trio of Belles Named All-MIAA
ROYAL OAK, Mich. - Three members of the Saint Mary's softball team were recognized by the conference coaches with All-MIAA honors on Tuesday.
For the second year in-a-row, junior Callie Selner was an All-MIAA First Team honoree and senior Morgan Bedan was named to the All-MIAA Second Team. Also joining the two repeat honorees was freshman Jillian Busfield, who was recognized with All-MIAA First Team accolades.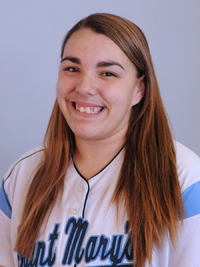 Selner made 11 pitching appearances in 16 league contests in 2013. She led the conference in innings pitched with 64.0 while sharing conference-high honors for most complete games with eight. MIAA opponents had a .248 batting average against Selner in the circle. Offensively, she was fifth among all conference players with a .480 batting average over the 16-game conference season. Her 25 runs batted in was tied for the third-most among all conference players and she was tied for sixth for total number of hits in conference games this year with 24. With her second consecutive first team selection, she becomes just the third player in program history to be named to the All-MIAA First Team multiple times.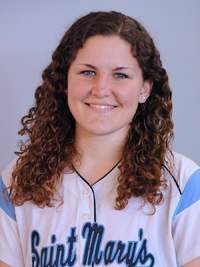 Bedan started and played every inning of each of the Belles' 16 conference games behind the plate in 2013. A team co-captain, she hit .385 in league play with eight doubles, 20 total hits, 14 runs scored, and seven runs driven in during her senior season. Her batting average was in the top 20 among all players in the conference with at least 30 at bats. The eight doubles in MIAA play was the second-most among all hitters in league contests this season. She once again was one of just two catchers to pick off a runner in conference play. She committed just one error in 86 chances with 78 putouts and seven assists for a .988 fielding percentage. A two-time All-MIAA Second Team selection, she is one of seven players in program history to earn multiple All-MIAA First or Second Team honors.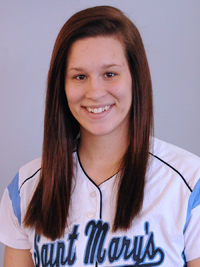 Busfield started and played every inning of each of Saint Mary's 16 MIAA games at first base. In her first season, she hit .440 in conference play with 22 hits, 19 runs batted in, 14 runs scored, a double, and eight home runs. At the time of her eighth home run in conference play, she had tied the conference record for home runs in a single season. Her batting average was the eleventh-best among conference players with at least 30 at bats in 2013. She was also tenth in total hits, seventh in runs batted in, sixth in total bases, fifth in slugging percentage, and third in total home runs. Defensively, Busfield posted a .971 fielding percentage with 97 putouts, three assists, and only three errors in 103 chances at first base.
The three All-MIAA honorees in 2013 is the second time in as many years that Saint Mary's has had multiple all-conference honorees. Moreover, the Belles have had multiple All-MIAA recipients in six of the past eight seasons.
Most Valuable Position Player
Sarah Belote, Trine (senior from Bronson/Bronson HS)
Most Valuable Pitcher
Andi Gasco, Trine (senior from Levering/Petoskey HS)
First-Team All-MIAA
Autumn Anderson, Hope* (freshman from Wayland/Wayland HS)
Lina Avila, Calvin* (junior from Lakewood, Calif./Valley Christian HS)
Sarah Belote, Trine** (senior from Bronson/Bronson HS)
Jillian Busfield, Saint Mary's* (freshman from South Bend, Ind./Riley HS)
Bree Fuller, Trine* (sophomore from Hubbardston/Fulton HS)
Andi Gasco, Trine**** (senior from Levering/Petoskey HS)
Rachel Harris, Trine* (sophomore from Uniontown, Ohio/Hoover HS)
Louise Rezmer, Alma** (senior from Essexville/Bay City All Saints HS)
Amanda Schneider, Alma* (senior from New Baltimore/Anchor Bay HS)
Carly Searles, Trine* (sophomore from Levering/Petoskey HS)
Callie Selner, Saint Mary's** (junior from Elkhart, Ind./Elkhart Memorial HS)
Laura Tjepkema, Hope** (senior from Dorr/Grand Rapids South Christian HS)
Second-Team All-MIAA
Morgan Bedan, Saint Mary's (senior Grosse Pointe Park/Grosse Pointe South HS)
Trista Brownlee, Calvin (sophomore from Saginaw/Saginaw Valley Lutheran HS)
Kaitlyn Clark, Trine (freshman from Mount Juliet, Tenn./Wilson Central HS)
Kelsey Cooper, Hope (sophomore from Romeo/Romeo HS)
Haleigh Daniels, Trine (junior from Hamilton, Ohio/Hamilton HS)
Lauren Harris, Trine (senior from Uniontown, Ohio/Hoover HS)
Kaitlyn Hinojosa, Adrian (sophomore from New Boston/New Boston Huron HS)
Natalie Hiser, Hope (sophomore from Westland/Livonia Churchill HS)
Lea Lusk, Alma (sophomore from Columbiaville/Lakeville HS)
Amy Newell, Trine (sophomore from Three Rivers/Three Rivers HS)
Erin Rodes, Alma (senior from Plymouth/Plymouth HS)
Kayla Smart, Alma (senior from Jenison/Jenison HS)