Belles Swept by Scots in Season Finale
Game One Box Score
Game Two Box Score

ALMA, Mich. - The Saint Mary's softball team lost 2-0 and 6-0 on the road at Alma to end their season on Saturday.

The Scots threatened in the bottom of the first inning with a lead off triple. A strikeout, pop up, and fly out later, Alma was kept off the scoreboard by the Belles' defense.

The opener remained scoreless until the bottom of the fourth inning when the Scots had a one-out two-run home run to left field.

Neither team would be able to get another runner past first base in the pitchers' dual.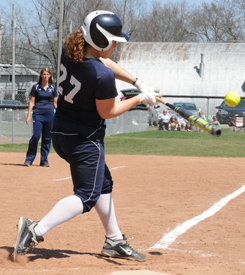 Morgan Bedan had a single in game one
for the Belles.Morgan Bedan collected the Belles' lone hit in the opener with a single that bounced off of third base in the fourth inning. The senior was 1-for-2 in the game and was hit by a pitch.

Callie Selner threw 65 pitches with just one earned run on four hits with three strikeouts and no walks in the first game.

In game two, it appeared as though the Belles would strike first in the bottom of the first inning. After a lead off single by Victoria Connelly, Callie Selner laced a two-out single to left field. Connelly rounded third and was headed home before being cut down by the Scots left fielder at the plate.

Jillian Busfield led off the second inning with a double to the left-center field fence, but the freshman was stranded at third.

The Scots plated a run in the top of the third, but the Belles minimized the damage as they shut the door on a bases loaded situation for Alma.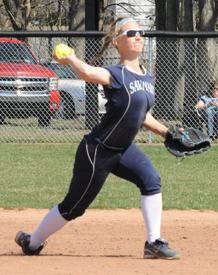 Emily Sherwood throws out a runner
at first.Alma added another run in the fourth and four in the seventh for the 6-0 decision.

Selner went 2-for-3 in game two to lead the Belles while pitching all seven innings and suffering the loss. Victoria Connelly, Emily Sherwood, and Jillian Busfield each tallied a hit in the loss.

The Belles end their season 19-17 and 9-7 in MIAA play to finish in a tie for fourth place. By virtue of a tiebreaker, Hope College earned the final spot in the MIAA Tournament.