Busfield Garners All-Region Honor
LOUISVILLE, Ky. - Saint Mary's freshman Jillian Busfield was named to the All-Region Third Team in the Central Region by the National Fastpitch Coaches Association for the 2013 season.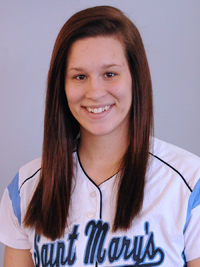 Busfield was one of 45 student-athletes to earn All-Region honors for the Central Region. She joins 11 other MIAA players on the All-Region squad this spring. The Central Region is comprised of 52 NCAA Division III schools from Indiana, Michigan, Ohio, Kentucky, Pennsylvania, and West Virginia.
In her freshman season with the Belles, she hit .364 with 39 hits, 27 runs scored, 28 runs batted in, a .720 slugging percentage, and a single-season school record 11 home runs. As of the May 5 NCAA Division III softball statistical ranking, Busfield was 15th among all Division III players in home runs per game, 22nd in total home runs, and 90th in slugging percentage.
A starter at first base in each of the team's 36 games this season, she posted a .973 fielding percentage with 207 putouts, 12 assists, and only six errors.
She becomes the first Saint Mary's freshman to earn All-Region honors since the 2007 season.
To read the full list of the eight NFCA All-Region teams, visit https://nfca.org/index.php/awards/louisville-sluggernfca-all-americans/5182-2013-diii-all-region-teams.