Belles Blast Comets
Game One Box Score
Game Two Box Score
NOTRE DAME, Ind. - The Saint Mary's softball team swept a conference doubleheader against Olivet in commanding fashion with 13-0 and 11-0 wins both in five innings on Senior Day.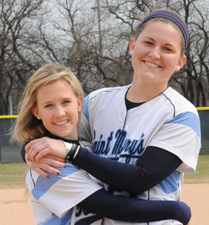 Seniors Emily Sherwood and Morgan
Bedan were recognized prior to
Sunday's doubleheader.Saint Mary's scored five runs in the first inning, three in the second, and five in the third to take command of the day early on Sunday. Callie Selner and Jillian Busfield hit back-to-back home runs in the first inning as the Belles sent 10 batters to the plate.
One inning later, Jillian Busfield delivered her second blast in as many at bats with a three-run shot to score Morgan Bedan and Callie Selner, who had both reached on walks, to give Saint Mary's the 8-0 lead.
The Belles sent 10 more batters to the plate in the third inning on their way to five more runs on five hits, two walks, and a sacrifice fly.
The offensive output was more than enough for Callie Selner in the circle. The junior earned the game one win after throwing a five inning, two-hit shutout with two walks and seven strikeouts. Selner retired 10 in-a-row spanning from the first inning to the fourth inning as the Comets were unable to get a base runner past second.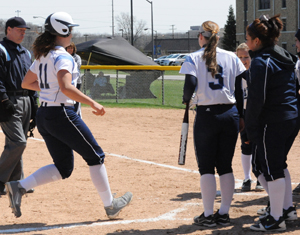 Jillian Busfield scores on her first of two home runs
in the game one win.Jillian Busfield was 3-for-3 with two home runs, three runs scored, and four runs batted in. Callie Selner added a home run of her own to go along with a sacrifice fly, two runs scored, and four RBIs.
The Belles broke game two wide open in the fourth inning with an eight-run effort on nine hits, including a triple by Emily Sherwood and doubles by Morgan Bedan, Kayla Chapman, and Sarah Callis.
Saint Mary's added two more runs in the fifth with two outs on back-to-back doubles by Morgan Bedan and Callie Selner after a lead off single by Jackie Martinez.
Again, the offense was more than adequate for Saint Mary's pitcher Sarah Burke. The freshman tossed a one-hit, five inning shutout with one walk and three strikeouts.
Morgan Bedan went 3-for-4 with two doubles, two runs scored, and three RBIs. Callie Selner, Kayla Chapman, and Sarah Callis all added multi-hit games at the plate for the Belles. Each of the Belles' nine starters had at least one hit while Jackie Martinez laced a single to center field in a pinch hitting appearance.
The Belles (16-12, 6-2 MIAA) host Hope for a conference doubleheader on Monday, April 22 beginning at 3:30 p.m.