Busfield Named to All-MIAA First Team
ROYAL OAK, Mich. - Saint Mary's sophomore Jillian Busfield was one of twelve softball players named First Team All-MIAA as voted on by the Michigan Intercollegiate Athletic Association softball coaches.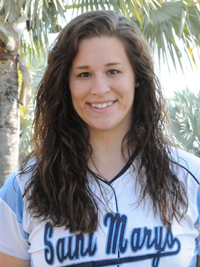 Busfield posted the second-highest batting average over the 16-game conference season with a .490 in league contests. She was fourth in total hits (24), tied for forth in runs scored (15), tied for fifth in total bases (33) and slugging percentage (.673), and tied for eight in walks (7). The sophomore catcher led all conference players in on-base percentage (.561). Defensively, she posted a .969 fielding percentage and caught four runners in conference games attempting to steal.
With her second consecutive All-MIAA First Team honor, Busfield becomes the eighth player in program history to be named to the conference's first team multiple times. Moreover, a member of the Saint Mary's softball team has earned either First or Second Team All-MIAA accolades each year since 1998.

2014 All-MIAA Softball Teams
Most Valuable Position Player
Devan Olah, Alma (junior from White Lake/Lakeland HS)
Most Valuable Pitcher
Bree Fuller, Trine (junior from Hubbardston/Fulton HS)
First Team All-MIAA
Autumn Anderson, Hope** (sophomore from Wayland/Wayland HS)
Lina Avila, Calvin** (senior from Lakewood, Calif./Valley Christian HS)
Jillian Busfield, Saint Mary's** (sophomore from South Bend, Ind./Riley HS)
Kaitlyn Clark, Trine* (sophomore from Mount Juliet, Tenn./Wilson Central HS)
Katie Dewyre, Adrian* (senior from Pemberville, Ohio/Eastwood HS)
Bree Fuller, Trine** (junior from Hubbardston/Fulton HS)
Ashlynn Grubb, Olivet* (freshman from LaGrange, Ind./Lakeland HS)
Lea Lusk, Alma* (junior from Columbiaville/Lakeville HS)
Devan Olah, Alma* (junior from White Lake/Lakeland HS)
Carly Searles, Trine** (junior from Levering/Petoskey HS)
Julie Sobieski, Hope* (junior from St. Charles, Ill./St. Charles East HS)
Peyton Wells, Hope* (junior from Rockford/Rockford HS)
Second Team All-MIAA
Kelsey Cooper, Hope (junior from Romeo/Romeo HS)
Haleigh Daniels, Trine (senior from Hamilton, Ohio/Hamilton HS)
Karissa DeVore, Adrian (sophomore from Adrian/Blissfield HS)
Leah Hall, Trine (junior from Indianapolis, Ind./Franklin Central HS)
Rachel Harris, Trine (junior from Uniontown, Ohio/Hoover HS)
Ashley Jakus, Calvin (senior from Muskegon/Reeths-Puffer HS)
Kendra Marshall, Trine (sophomore from Leesburg, Ind./Warsaw HS)
Alyssa Nielsen, Olivet (senior from Greenville/Greenville HS)
Justine Robles, Trine (sophomore from Long Beach, Calif./Lakewood HS)
Jessica Sarch, Adrian (sophomore from Aurora, Ill./Waubonsie Valley HS)
Brooke Stewart, Adrian (junior from Onsted/Onsted HS)
Cassidy Vlot, Calvin (freshman from Chowchilla, Calif./Chowchilla HS)