Busfield Garners First Team All-Region Honor
LOUISVILLE, Ky. - Saint Mary's sophomore softball player Jillian Busfield was selected to the All-Central Region First Team as announced by the National Fastpitch Coaches Association.
The honor comes hot on the heels of the sophomore catcher/first baseman's second consecutive All-MIAA First Team selection on Thursday.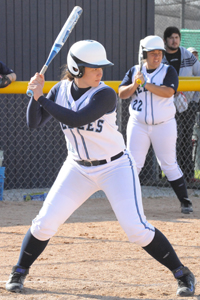 Busfield posted a .449 batting average on the year with 44 hits, 28 runs batted in, 26 runs scored, seven doubles, six home runs, and a .704 slugging percentage. Her batting average ranked in the top 85 among all NCAA Division III softball players as of May 4. Busfield also ranks in the top 130 among Division III softball players in slugging percentage, home runs, home runs per game, and on base percentage.
Busfield was one of 15 student-athletes to earn All-Region honors for the Central Region as she picked up an at-large honor after splitting the season as both a first baseman and catcher. She joined four other MIAA players on the First Team while the conference had 14 of its softball players recognized on the Central Region First, Second, and Third Teams.
The Central Region is comprised of more than 50 NCAA Division III schools from Indiana, Michigan, Ohio, Kentucky, Pennsylvania, and West Virginia.
The First Team All-Region selection is the first of Busfield's career and is the second All-Region honor in as many years for the sophomore. She was an All-Region Third Team honoree in 2013. By virtue of her First Team status, she is entered into the pool of 120 Division III softball players for All-American consideration.
To view the entire list of NCAA Division III All-Region honorees, visit https://nfca.org/index.php/awards/nfca-all-americans/5733-2014-nfca-diii....