Belles Shut Out in Sunshine State
Stevens Institute Box Score - Franklin & Marshall Box Score
FORT MYERS, Fla. - The Saint Mary's softball team lost a pair of 7-0 contests against Stevens Institute of Technology and Franklin & Marshall on Monday afternoon.
Stevens Institute scored a run in the first, a run in the second, and three runs in the third inning to establish the lead and take the momentum early.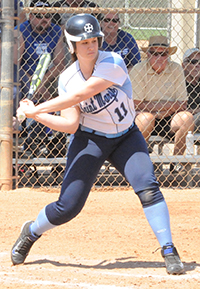 Jillian Busfield collected three hits
on the day.The biggest offensive threat for the Belles against the Ducks came in the second inning. Caitlyn Migawa led the inning off with a walk and moved up to second base after the attempt to get her out at first sailed beyond the fence. Callie Selner drew a walk, and Jillian Busfield added a single to left field to load the bases with no outs. A line drive double play and a strike out ended the Saint Mary's threat without causing any damage to the Stevens lead.
Caitlyn Migawa, Jillian Busfield, and Cecily Reyes all had a hit against Stevens Institute. Callie Selner was dealt the loss after going the distance and surrendering seven runs on 11 hits with a pair of strikeouts.
Much like Stevens Institute in the first game, Franklin & Marshall struck early in the second game of the day. The Diplomats plated a run in the top of the first inning and added three in the third inning before adding a run in the sixth and two more in the seventh.
The Belles defense came up with a pair of double plays in the game while cutting down a runner at the plate in a suicide squeeze bunt attempt to keep the Diplomats from increasing their lead any further.
Offensively, Saint Mary's stranded four runners in the game and had just one base runner in scoring position against Franklin & Marshall.
Jillian Busfield went 2-for-3 from the plate with a pair of singles and Victoria Connelly, Kayla Chapman, and Jackie Martinez each added hits. Sarah Burke tossed nine strikeouts over seven innings of work while being handed the loss in the circle.
The Belles (1-3) are back on the field tomorrow when they face Rockford and Minnesota-Morris on Tuesday at 9:00 a.m. and 1:00 p.m.