Belles Capitalize on Miscues to Topple Knights
Game One Box Score - Game Two Box Score
GRAND RAPIDS, Mich. - The offense took advantage of 15 errors by the Calvin defense as the Saint Mary's softball team posted 15-4 (6 innings) and 14-8 wins over the Knights on Saturday.
The Knights scored first in game one with a two-run third inning, but the Belles quickly shifted the momentum for good with a seven-run outburst in the top of the third.
Saint Mary's sent twelve batters to the plate in the third inning. Three singles, two doubles, and four walks later, the Belles claimed a 7-2 lead. Jamie Young, Cassie Young, and Kelsey Richards each had a single and scored a run. Morgan Raymer had two doubles in her two plate appearances while scoring once and driving in three.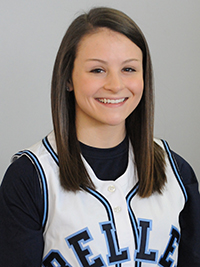 Makenzie Duncan hit two home
runs in the Belles' wins on
Saturday.The Knights got two runs back in the bottom half of the inning, but the Belles fired right back in the top of the fifth. Makenzie Duncan drilled a one-out home run to opposite field. Back-to-back errors put Jamie Young and Cassie Young on base with two outs. Jamie Young scored on a wild pitch, and Jillian Busfield drove in Cassie Young with a single up the middle to make it a 10-4 game.
The offense was hardly done for Saint Mary's. A double by Duncan, a single by Sarah Callis, an error, a single by Cassie Young, and back-to-back doubles by Busfield and Raymer resulted in five more runs to put the game well out of reach for the Knights.
Calvin did push two runs across in the bottom of the sixth on a home run, but the Belles closed out the mercy rule-shortened win with a 15-6 final score.
Morgan Raymer was 4-for-5 with four RBIs, three doubles, and scored a run to help lead the Belles in game one. Makenzie Duncan went 3-for-4 at the dish with a home run, a double, two runs, and an RBI. Jillian Busfield had a pair of hits - including a double - while posting three RBIs while Cassie Young also tallied a pair of hits.
Sarah Burke earned the pitching victory for her seventh win of the year after allowing just two earned runs over four innings and striking out four. Jessica Alberts came in to pitch the fifth inning and struck out one. Emily Najacht finished the game by pitching the sixth inning and striking out three.
Game two saw the Knights take the early lead yet again with a run in the top of the first inning, but the Belles pulled even in the bottom half of the inning. Jamie Young and Cassie Young both drew walks, and Jamie scored from second on a single to center field by Morgan Raymer.
In the second inning, the Belles took their first lead of the game when Cassie Young drove in Makenzie Duncan from second base.
The lead, however, was short-lived as Calvin posted three runs in the third and another run in the fourth to go ahead 5-2.
Saint Mary's came right back at the Knights with two runs in the bottom half of the fourth. Sarah Callis laced a single through the left side, and Cassie Young reached first on a dropped third strike with two outs. Both runners came in to score on an error by the Knights' shortstop to make it a 5-4 game through four complete.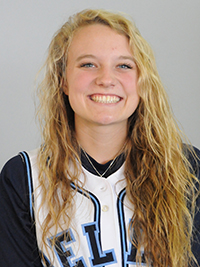 Cassie Young added a home run
in game two for the Belles.It was Calvin's turn to take advantage of a defensive error in the fifth while plating three runs to go ahead 8-4.
The Belles were far from finished as the offense rallied to score 10 runs in the final two innings of play. Kayla Raymer walked and scored from second on an error on a ball hit by Caitlyn Migawa. Then Makenzie Duncan singled and scored on an error on a ball hit by Jamie Young. Cassie Young put the Belles ahead for good with a two-run home run to left-center field to make it 9-8.
Saint Mary's added five insurance runs in the bottom of the sixth inning. Morgan Raymer drew a lead off walk, and Migawa singled up the middle to put a pair of runners aboard. With two outs gone, Makenzie Duncan delivered a big blow to the Knights' chances with a three-run home run to left-center field to make it 12-8. A single by Callis and an error which allowed Jamie Young to reach safely kept the inning alive. Cassie Young made the prolonged at-bat for the Belles count with a double to right-center field to put Saint Mary's ahead 14-8.
In game two, Cassie Young and Makenzie Duncan each went 3-for-4 with a home run. Young registered five RBIs and scored twice, and Duncan had three RBIs and scored three times. Sarah Callis added a 2-for-5 effort with a pair of runs.
Jessica Alberts earned the pitching win in relief after 1.2 innings of effective work and striking out one. Morgan Raymer went 4.1 innings and surrendered four earned runs with five strikeouts. Similarly to game one, Emily Najacht closed out the win for the Belles after allowing just one hit in one inning work.
The Belles (16-4, 3-1 MIAA) return home to host North Park on Monday, April 6 starting at 1:00 p.m.