Season Comes to a Close as Belles Fall to Thunder
ANGOLA, Ind. - The 2015 Saint Mary's softball season came to its conclusion on Friday as the Belles fell by a 10-2 score in six innings in an elimination game in the MIAA Tournament against host Trine.
The fifth-ranked Thunder jumped ahead 2-0 in the top of the first inning with a solo home run and and RBI double. The Belles were able to limit the damage to just those two runs as Trine had a runner on third before Sarah Burke chalked up a strikeout to end the inning.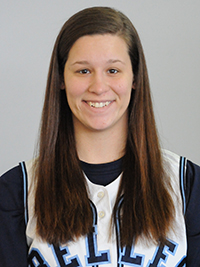 Jillian Busfield was 2-for-3 with a
home run and an RBI double.The score stayed at 2-0 until the bottom of the fourth inning when the Belles cut the deficit in half. Jillian Busfield drilled the first pitch she saw in her at bat over the left-center field fence for her 24th career home run. Makenzie Duncan followed up Busfield with a double before moving to third on a sacrifice bunt by Morgan Raymer. Duncan, however, got cut down between third and home on a fielder's choice to stop the scoring threat.
The Thunder regained the momentum in the top of the fifth with a five-run outburst. Trine sent ten batters to the plate and scored their five runs all with two outs after a walk, a hit batter, a home run, back-to-back singles, a walk, and another single. The host Thunder extended the lead to 10-1 in the top of the sixth with three more runs.
The Belles needed at least two runs to keep the game alive in the bottom half of the sixth inning, and the team was up for the challenge as they have been all season. Cassie Young got things started with an infield single before advancing to second on the same play as no one was covering the base defensively for the Thunder. Jillian Busfield came up and laced a double to left-center field to score Young easily from second base to make it a 10-2 score. The comeback bid, however, was stopped there for the Belles after Trine retired the next three batters in-a-row to end the game.
Sarah Burke shouldered the loss in the circle after going 4.2 innings and surrendering five runs while striking out two. Mary Green, Jessica Alberts, and Morgan Raymer all threw less than an inning each in relief for the Belles.
Jillian Busfield led the offense with a 2-for-3 effort, which included her 24th career home run and a double. Makenzie Duncan had a double for the Belles, and Sarah Callis, Cassie Young, Kayla Chapman, and Caitlyn Migawa each added a hit.
The Belles end the season 23-14 overall with a 9-7 MIAA record, which was good enough for fourth place in the league.