Belles Ground Vikings for Doubleheader Sweep
Game One Box Score - Game Two Box Score
NOTRE DAME, Ind. - The Saint Mary's softball team pushed their current winning streak to six games with 6-2 and 10-3 wins over North Park on Monday afternoon.
The visiting Vikings struck first in the top of the third inning of game one with a pair of runs on four singles for the early 2-0 lead.
The Belles cut that lead in half in the bottom half of the inning to regain some of the momentum. Kelsey Richards led off the inning with a single and stole second base to get into scoring position. She then moved up to third on a dropped third strike. Sarah Callis then executed a suicide squeeze bunt to near perfection while being thrown out at first to push Richards across for the run.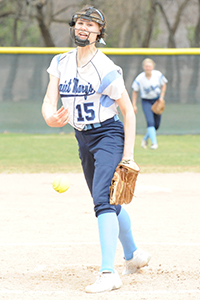 Jessica Alberts earned the
game-one pitching win.The score was unchanged until the bottom of the fifth inning. Richards reached on a passed ball on strike three, Makenzie Duncan made it to first on a fielding error by the Vikings' second baseman, and Jamie Young drew a one-out walk to load the bases. Richards was out at home on a two-hop grounder back to the pitcher by Cassie Young to record the second out of the inning. Jillian Busfield was patient in her at-bat and drew the bases loaded walk as Duncan scored to tie the game at 2-2. A wild pitch shortly thereafter allowed Jamie Young to come across and score to give the Belles the lead.
In the bottom of the sixth, Saint Mary's added three late insurance runs. Kayla Raymer started the inning off with a single up the middle. Raymer moved to third on a single to center field by Caitlyn Migawa, and Migawa advanced to second on the throw to third on the play to put two runners in scoring position with no outs. Kelsey Richards followed suit with a single up the middle, which allowed Raymer to score easily from third. Richards stole second to again have two runners in scoring position, and the Belles took advantage of the opportunity as both Migawa and Richards scored on consecutive infield ground outs to give Saint Mary's the 6-2 lead.
The insurance runs were more than enough for the Belles' defense and Sarah Burke, who had come on in relief in the top of the sixth. Burke faced just eight hitters in two innings while earning the save. Jessica Alberts earned the win in the circle after going 5.0 innings with five strikeouts while surrendering two runs.
Kelsey Richards went 2-for-3 while scoring twice and driving in a run in game one. Sarah Callis had a pair of RBIs, and Jamie Young hit a triple and scored once for the Belles.
In game two, the Belles scored in every other at-bat and never looked back. After stranding a runner at third in the bottom of the first, Saint Mary's put together a run in the second inning. Morgan Raymer had a lead-off single and moved to second on a sacrifice bunt. Kayla Chapman bounced a single up the middle to put runners at the corners, and Kelsey Richards drove home Raymer on a fielder's choice.
Two innings later, the Belles pushed their lead to 4-0 by scoring three runs on three hits, a hit batter, and a sacrifice fly. Caitlyn Migawa had a one-out single followed up by a double to left-center field by Kayla Chapman to put runners on second and third. Richards was hit by a pitch to load up the bases, and Makenzie Duncan drove in Migawa with a sacrifice fly to left field. Sarah Callis then ripped a double over the center fielder, which allowed Chapman and Richards to score easily as both runners were off on contact with two outs gone in the inning.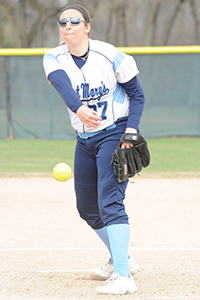 Mary Green earned her first
collegiate pitching win in game
two.The Vikings made things interesting by scoring three unearned runs in the top of the fourth inning, but the Belles nearly ended things early with a six-run outburst in the sixth inning.
Migawa started off the big inning with a double to left-center field. Victoria Connelly came in as a pinch runner before Chapman drew a walk to put a pair of runners aboard. Richards put down the sacrifice bunt to advance Connelly and Chapman. Connelly scored and Chapman moved to third on a passed ball to make it a 5-3 game. Duncan then drove in Chapman with a double of her own to left field for the 6-3 advantage.
A bloop infield single by Sarah Callis put runners at the corners, and Duncan scored on the throw down to second to try to get Callis stealing to increase the Saint Mary's lead. Jamie Young then delivered a single to left field and swiped second base to put two Belles in scoring position still with only one out gone in the inning. Cassie Young drove the pair in with a single through the left side of the defense to make it a 9-3 game. After advancing to second on a wild pitch, Jamie scored easily on a single up the middle by Jillian Busfield to make it 10-3.
Emily Najacht came in to close out the game after allowing no hits in an inning of work. Mary Green, meanwhile, earned the pitching win - the first of her collegiate career - after going 6.0 innings and allowing no earned runs on two hits with a strikeout.
Sarah Callis, Jamie Young, Morgan Raymer, Caitlyn Migawa, and Kayla Chapman each had two hits in the game two victory. Callis drove in a pair and scored a run. Migawa and Chapman each registered a double while Chapman scored twice.
The Belles (16-6) return to conference action on Wednesday, April 8 when they travel to Alma for a doubleheader beginning at 3:30 p.m.