Belles Compete at Day Two of MIAA Championships
Results

HOLLAND, Mich. - The Saint Mary's swim team picked up nearly 100 points on the first full day of swimming action at the 2012 MIAA Championships on Thursday.

The Belles came into the day with 28 points and walked out of Holland Aquatic Center with 124 team points. Saint Mary's is currently in sixth place while Hope holds a one-and-a-half point lead over Calvin for first place.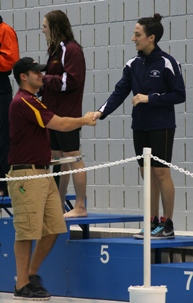 Audrey Dalrymple is congratulated
on her fifth place finish in the 200
IM. (Photo courtesy Jeff Febus,
Calvin College)Audrey Dalrymple had a strong individual effort for Saint Mary's in the 200 individual medley. The senior earned a spot in the championship final and took fifth place in the evening session with a 2:12.45. Classmate Katie Donovan had her best time of the season while finishing 13th in the consolation final of the 200 IM with a 2:19.90.

Megan Price also earned a spot in the championship final of the 500 free with an eighth place finish in the morning session. She then matched that eighth place finish in the championship with a 5:19.38, cutting more than a second and a half off her time earlier in the day.

Anna Nolan was .23 of a second off of a school record with her 50 free style time in the morning preliminaries (25.13), which also earned her a spot in the consolation finals. The freshman finished 10th overall in the event on Thursday night with a 25.30.

The Belles relays saw success on the day as well. The 200 free relay group of Nolan, Sarah Thompson, Donovan, and Julianne Divine improved their time from the morning session on their way to a sixth place finish in the event in 1:43.02. In the final women's event of the night, the Belles benefited from a disqualification as well as an exhibition group to earn a second place finish in the 400 medley relay. The squad of Nolan, Dalrymple, Kristyn Gerbeth, and Price finished the final in 4:09.91, which is also the third-fastest time in the event in program history.

Sarah Thompson (50 free), Kristyn Gerbeth (50 free), and Liz Palmer (500 free) all improved their best times in their individual events on the day.

Day three of four will kick off at 10:00 a.m. at the Holland Aquatic Center with the 200 medley relay.


Women's Team Scores (After seven events): 1. Hope 255. 2. Calvin 253.5. 3. Kalamazoo 174.5. 4. Olivet 155. 5. Alma 128. 6. Saint Mary's 124. 7. Albion 112.

Saint Mary's Results
200 free relay
Prelims - Nolan, Thompson, Donovan, Divine (3rd - 1:43.65)
Finals - Nolan, Thompson, Donovan, Divine (6th - 1:43.02^)

500 free
Prelims - Megan Price (8th - 5:21.05); Liz Palmer (19th - 5:36.89)
Finals - Megan Price (8th - 5:19.38)

200 IM
Prelims - Audrey Dalrymple (5th - 2:13.90); Katie Donovan (15th - 2:22.06)
Finals - Audrey Dalrymple (5th - 2:12.45); Katie Donovan (13th - 2:19.90)

50 free
Prelims - Anna Nolan (10th - 25.13^); Sarah Thompson (t18th - 25.98); Kristyn Gerbeth (26th - 26.19)
Finals - Anna Nolan (10th - 25.30)

400 medley relay
Prelims - Nolan, Dalrymple, Gerbeth, Price (3rd - 4:13.34)
Finals - Nolan, Dalrymple, Gerbeth, Price (2nd - 4:09.91^)

^ - new Saint Mary's top-five all-time performance