Belles in Seventh Going Into Final Day of Championships
JENISON, Mich. - The Saint Mary's swimming and diving team sits a mere eight-and-a-half points behind Olivet as the MIAA Championships heads into its final day of competition on Saturday.
Calvin continues to lead the field with a team score of 531.5. Hope is in second place with 489.5 points. The Belles have a team score of 155.5 heading into the final day of competition.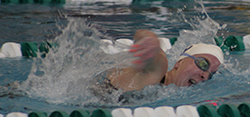 Ellie Watson finished sixth in the 200
freestyle on Friday night. (Photo courtesy of
Bobby Lee, Albion SID)Ellie Watson had another strong individual performance, this time in the 200 freestyle. In the morning session, she had the sixth-fastest time in the field of nearly 40 athletes with a 1:58.11, which was also a 12 hundredths of a second improvement upon the second-fastest swim in the event in program history established by Watson two seasons ago. In the championship final, she finished sixth with an even faster time of 1:58.03 for the new second-best 200 freestyle time in school history.
In the same race, Carolyn Neville earned a spot in the consolation final with the 13th-best time in the morning preliminaries with a 2:01.10. Tonight, she finished in a tie for 14th place in 2:00.41.
Megan Knobloch and Anna Nolan both earned spots in the consolation finals of the 100 backstroke. Knobloch was 11th at the end of the morning session (1:03.97) and Nolan had the 13th-best time (1:04.72). In the evening session, Nolan cut more than four seconds off her morning time to finish 9th in 1:02.21. Knobloch swam a 1:05.55 for 15th place.
Kristyn Gerbeth earned a spot in the consolation final of the 100 butterfly after finishing 16th in the morning with a 1:05.26. She shaved just over a second off that time in the evening with a 1:04.24 to finish 13th.
The 200 medley relay group of Knobloch, Liz Litke, Genevieve Spittler, and Gerbeth finished in seventh place with a time of 2:01.73 for the Belles.
The swimming and diving team will conclude the 2013 MIAA Championships at Jenison High School tomorrow.
Friday Results
200 medley relay
Prelims: A (Megan Knobloch, Liz Litke, Genevieve Spittler, Kristyn Gerbeth), 5th (2:01.29)
Finals: A (Knobloch, Litke, Spittler, Gerbeth), 7th (2:01.73)
100 fly
Prelims: Gerbeth, 16th (1:05.26); Spittler, 18th (1:05.59)
Finals: Gerbeth, 13th (1:04.24)
200 free
Prelims: Ellie Watson, 6th (1:58.11); Carolyn Neville, 13th (2:01.10); Emily Brown, 20th (2:05.46); Sarah Thompson, 26th (2:07.98); Liz Palmer, 30th (2:10.50); Paige Handy, 33rd (2:19.57)
Finals: Watson, 6th (1:58.03); Neville, t-14th (2:00.41)
100 breaststroke
Prelims: Litke, 19th (1:16.83); Sinead Hickey, 21st (1:19.00)
100 back
Prelims: Knobloch, 11th (1:03.97); Anna Nolan, 13th (1:04.72); Marta Carrion, 19th (1:07.51); Spittler, 21st (1:08.64)
Finals: Nolan, 9th (1:02.21); Knobloch, 15th (1:05.55)