Belles' Streak Halted by Brits
NOTRE DAME, Ind. - The Saint Mary's tennis team had their four-match winning streak snapped at the hands of MIAA foe Albion by an 8-1 score on Wednesday evening.
The Brits opened the match by taking all three doubles flights as well as the first two singles matches completed to clinch the win.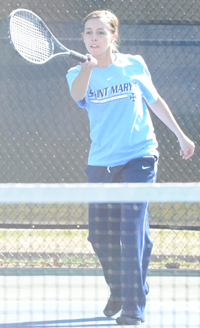 Jackie Kjolhede won her singles
match for the Belles against Albion.Jackie Kjolhede earned the win for the Belles with a 6-1, 6-2 victory at number six singles. Audrey Kiefer nearly completed the comeback at number four singles as she won the second set 6-4 after a 6-3 opening set loss before falling in the tiebreaker.
The Belles (6-5, 2-1 MIAA) return to action tomorrow when they take on cross-town rival Bethel on Thursday at the Eck Tennis Pavilion beginning at 6:00 p.m.

Results
Albion College 8, Saint Mary's College 1
Singles competition
1. Marissa Cloutier (ALBION) def. Mary Catherine Faller (SMC) 6-4, 6-0
2. Katie Blumberg (ALBION) def. Kayle Sexton (SMC) 6-0, 6-4
3. Heather Vogt (ALBION) def. Shannon Elliott (SMC) 6-1, 6-2
4. Marissa Messenger (ALBION) def. Audrey Kiefer (SMC) 6-3, 4-6, 1-0 (10-7)
5. Margaux Kabodian (ALBION) def. Margaret Faller (SMC) 6-0, 6-1
6. Jackie Kjolhede (SMC) def. Leah Saurman (ALBION) 6-1, 6-2
Doubles competition
1. Heather Vogt/Margaux Kabodian (ALBION) def. Mary Catherine Faller/Kayle Sexton (SMC) 8-4
2. Katie Blumberg/Leah Saurman (ALBION) def. Jackie Kjolhede/Audrey Kiefer (SMC) 8-3
3. Marissa Cloutier/Marissa Messenger (ALBION) def. Shannon Elliott/Margaret Faller (SMC) 8-5