Singles Play Lifts Belles Past Scots
EAST LANSING, Mich. - After trailing 2-1 at the conclusion of doubles play, the Saint Mary's tennis team won four of six singles flights to claim a 5-4 MIAA win over Alma on Saturday afternoon.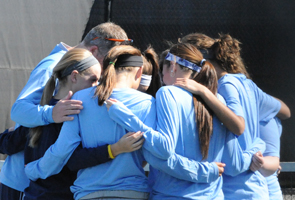 Mary Catherine Faller and Kayle Sexton edged their way to an 8-6 win at number one doubles. Audrey Kiefer and Jackie Kjolhede were just short on their effort to give the Belles the lead going into singles after falling in a tiebreaker at number two doubles.
Jackie Kjolhede and Kayle Sexton set the tone for the Belles in singles play. Kjolhede did not drop a game on her way to a 6-0, 6-0 win at number five singles. Sexton was took a 6-1, 6-1 victory at number two singles to get the Belles right back into the match.
Mary Catherine Faller and Shannon Elliott prevailed in their matches to give Saint Mary's the conference victory. Faller was a 7-5, 6-4 winner at number one singles. Elliott had a come-from-behind decision at number three singles with a 3-6, 6-0, 6-3 win.
The Belles (8-5, 3-1 MIAA) return home to host Adrian on Tuesday, April 16 for a 4:00 p.m. match against the Bulldogs
Results
Saint Mary's College 5, Alma College 4
Singles competition
1. Mary Catherine Faller (SMC) def. Megan Solano (ALMA) 7-5, 6-4
2. Kayle Sexton (SMC) def. Tara Patton (ALMA) 6-1, 6-1
3. Shannon Elliott (SMC) def. Katie Meloche (ALMA) 3-6, 6-0, 6-3
4. Margaret Miller (ALMA) def. Audrey Kiefer (SMC) 6-3, 5-7, 1-0 (10-6)
5. Jackie Kjolhede (SMC) def. Lauren Moreau (ALMA) 6-0, 6-0
6. Brittney Miller (ALMA) def. Margaret Faller (SMC) 6-2, 6-4
Doubles competition
1. Kayle Sexton/Mary Catherine Faller (SMC) def. Megan Solano/Tara Patton (ALMA) 8-6
2. Katie Meloche/Brittney Miller (ALMA) def. Audrey Kiefer/Jackie Kjolhede (SMC) 9-8 (8-6)
3. Margaret Miller/Morgan Waier (ALMA) def. Margaret Faller/Shannon Elliott (SMC) 8-2