Belles Halt Eagles
NOTRE DAME, Ind. - The Saint Mary's tennis team picked up their second 9-0 win in as many days with a victory over Judson University on Friday evening.
Jackie Kjolhede and Margaret Boden were 8-1 winners at the number three doubles flight. Margaret Faller and Shannon Elliott won 8-1 at number two doubles. Mary Catherine Faller and Kayle Sexton staved off their opposition at number one doubles with a 9-8 (8-6) win to give the Belles all three doubles decisions.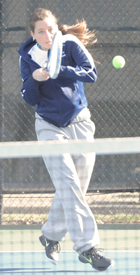 Shannon Elliott picked up
wins at doubles and
singles after dropping just
four games combined.Kayle Sexton was a quick 6-0, 6-2 win at number two singles to put the Belles up 4-0. Shannon Elliott dropped just three games on her way to a 6-1, 6-2 win at number three singles. Jackie Kjolhede broke through with a 6-4, 6-0 win at the five singles flight. Katie Nickol won 6-3, 6-4 at number six singles for Saint Mary's.
Mary Catherine Faller battled her way to a 6-2, 1-6, 1-0 (10-6) win at number one singles. Margaret Faller also went to the tiebreaker for a 6-3, 5-7, 1-0 (11-9) victory at number four singles to round out the win for the Belles.
Saint Mary's (6-4) is back in action on Wednesday, April 10 when they host Albion for an MIAA match beginning at 4:00 p.m.
Results
Saint Mary's College 9, Judson University 0
Singles competition
1. Mary Catherine Faller (SMC) def. Alexa Williams (JUDSON) 6-2, 1-6, 1-0 (10-6)
2. Kayle Sexton (SMC) def. Marcilynn Rowan (JUDSON) 6-0, 6-2
3. Shannon Elliott (SMC) def. Kristen Kress (JUDSON) 6-1, 6-2
4. Margaret Faller (SMC) def. Megan Joyce (JUDSON) 6-3, 5-7, 1-0 (11-9)
5. Jackie Kjolhede (SMC) def. Kirstie Shales (JUDSON) 6-4, 6-0
6. Katie Nickol (SMC) def. Marisa Gauss (JUDSON) 6-3, 6-4
Doubles competition
1. Mary Catherine Faller/Kayle Sexton (SMC) def. Alexa Williams/Marcilynn Rowan (JUDSON) 9-8 (8-6)
2. Margaret Faller/Shannon Elliott (SMC) def. Megan Joyce/Kirstie Shales (JUDSON) 8-1
3. Jackie Kjolhede/Margaret Boden (SMC) def. Kristen Kress/Angela Schultz (JUDSON) 8-1