Belles Soar Past Comets
NOTRE DAME, Ind. - The Saint Mary's tennis team made quick work of visiting Olivet on Thursday afternoon with a 9-0 MIAA victory against the Comets.
The Belles set the tone early with an 8-0 win at number two doubles by Audrey Kiefer and Jackie Kjolhede. Shannon Elliott and Margaret Faller took an 8-1 win at number three doubles, and Mary Catherine Faller and Kayle Sexton matched that 8-1 victory at number one doubles to give the Belles the momentum heading into singles play.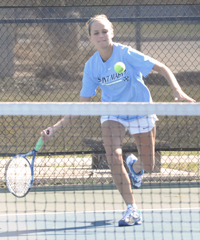 Margaret Faller won her singles
match 6-0, 6-0.The four, five, and six singles matches were all done in quick succession to secure the win for Saint Mary's. Margaret Faller did not drop a game en route to the 6-0, 6-0 win at number four singles. Audrey Kiefer and Jackie Kjolhede surrendered a single game apiece as Kiefer was a 6-0, 6-1 winner at number five singles while Kjolhede won 6-1, 6-0 at six singles.
Similarly, Kayle Sexton and Shannon Elliott only dropped three games each in their wins with Sexton taking a 6-1, 6-2 win at two singles and Elliott claiming a 6-2, 6-1 win at three singles.
Mary Catherine Faller wrapped up the sweep for the Belles with a 6-1, 6-0 win at number one singles.
The Belles (5-4, 2-0 MIAA) will have a short rest before hosting Judson at home tomorrow afternoon beginning at 4:00 p.m.
Results
Saint Mary's College 9, Olivet College 0
Singles competition
1. Mary Catherine Faller (SMC) def. Caitlin LaValley (OLIVET) 6-1, 6-0
2. Kayle Sexton (SMC) def. Jennifer Lightner (OLIVET) 6-1, 6-2
3. Shannon Elliott (SMC) def. Courtney Kidder (OLIVET) 6-2, 6-1
4. Margaret Faller (SMC) def. Devan Thomas (OLIVET) 6-0, 6-0
5. Audrey Kiefer (SMC) def. Lucy McNally (OLIVET) 6-0, 6-1
6. Jackie Kjolhede (SMC) def. Heather Kennedy (OLIVET) 6-1, 6-0
Doubles competition
1. Mary Catherine Faller/Kayle Sexton (SMC) def. Caitlin LaValley/Jennifer Lightner (OLIVET) 8-1
2. Audrey Kiefer/Jackie Kjolhede (SMC) def. Courtney Kidder/Sarah Crittenden (OLIVET) 8-0
3. Shannon Elliott/Margaret Faller (SMC) def. Devan Thomas/Lucy McNally (OLIVET) 8-1